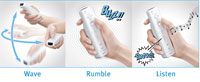 Video game kings Nintendo have opened hostilities with arch-rivals Microsoft and Sony with the unveiling of its new "Wii" console.
The Japanese game maker launched their new console at the E3 show in Los Angeles, claiming that it will "revolutionise" gaming just as soon as it's unleashed on the public, sometime during the last quarter of 2006.
Pricing, details and specifications of the Wii are still a bit thin on the ground, but Nintendo are insisting that "You'll get more fun for less money" when the product finally launches.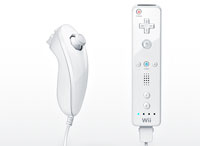 The Wii will certainly be considerably cheaper that its rivals when it goes on sale later this year, with pundits predicting a price around the $250 mark – cheaper than the Xbox 360 and around half the price of the top-of-the-range PS3.
With the Wii console being cheaper to produce (Sony's new PS3 will be a loss leader with the company clawing back profits from software sales), Nintendo are expected to turn a profit on their console far quicker than their rivals.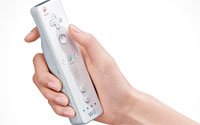 Sporting an unusual, one-handed wireless controller, the remote control-shaped Wii handset comes with motion sensors and speakers, letting users interact with games by waving their arms about and looking like a bit of a nutter.
The built-in speakers should add extra realism, with, for example, sound travelling from the controller to the TV when you blast your turbo space gun at an onscreen evil Thatch-monster from Granthaxia.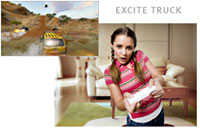 Nintendo reckon that users will find their one-hand, noise-making controller more fun and intuitive: "Our goal is to expand the total number of people playing games," said Nintendo president Satoru Iwata
"To do this, we needed to target gamers who played and had lost interest, as well as those who have never played," he commented, adding that the one-handed design, "breaks down the barrier for non-gamers. The most difficult job is to approach people who have never played before."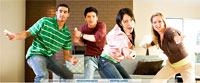 Reggie Fils-Aime, chief marketing officer at Nintendo, was even more enthusiastic, insisting that the Wii was designed so "even your mother could use it."
If she's not dribbling over her blanket in an old folk's home, of course.