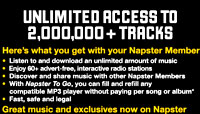 In an attempt to grab a bigger slice of a music download market currently dominated by Apple's iTunes, Napster is letting users gorge themselves on the 2,000,000+ tracks in their bulging catalogue. All for free.
Sounds too good to be true?
Well, there is a big catch: songs can't be downloaded – only streamed – and you can only listen to a song five times before you have to buy it for 99 cents or sign up for a monthly subscription.
Napster's new service certainly trumps rival RealNetwork's Rhapsody program, whose punter-luring, free streaming music offer only extends to a miserly 25 songs per month.
How it works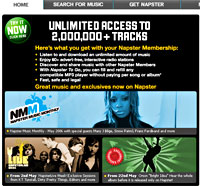 The freebie web-based service uses a Flash application to provide a basic music player interface along with windows for album art and the inevitable advertising.
Working on Flash-enabled Windows, Macintosh, and Linux machines, there's no need to install any specific software.
Pirate downloaders looking to sneakily snaffle the freebie music will be disappointed to learn that the streamed music is of lower-quality than Napster's commercial offerings.
Napster CEO Chris Gorog was keen to draw parallels with his company's once infamous past, "This is the closest we have ever come to the original vision of the Napster service that swept the world in 1999 – except now, it's legal."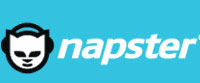 Gorog believes the boom in online advertising will pay dividends for Napster's new advertising-supported business model, noting that their website currently averages 2 million visitors a month.
Napster's service works with selected players from iriver, Creative, Dell, Samsung, Gateway and others but, crucially, not Apple's iPod, which enjoys a thumping 77.6% market share, according to the NPD Group.