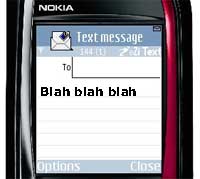 It's with absolutely no surprise that news reaches us that the number of text (SMS) messages has reached a record high.
Initially you wouldn't think that March would have any particular special reasons to get punters putting fingers to (small) keyboard and waxing lyrical, but frankly the number of mobile phone users compared with number of those that can have the ability to use SMS are no equal yet. As little Johnny persuade his grandma/mother/any elder relative that the only way they're only way that they're going to be able to communicate is via the keyboard she can hardly see, never mind type on to, the number of messages will go up.
The previously largest number of texts that were sent was 3.11Bn (yes, billion) which was in the far more likely month of December, as people cut corners and got lazy by sending xmas texts instead of bothering to make a card and send it to their 'friends'.
March 2006 hit a profit-enhancing 3.19Bn messages, up a digit-bleeding 24% on the same period last year. The Mobile Data Association (MDA), who publish the figures, put it down to Mother's Day, which, if true, is frankly a sad reflection on Uk society.