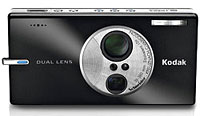 With a triumphant beat of its kodachrome chest, Kodak has announced the world's smallest 10x optical zoom camera, the 6-megapixel KODAK EASYSHARE V610 dual lens digital camera
The camera uses the innovative Kodak Retina Dual Lens technology to deliver a thumping 38 – 380 mm (35mm equiv.) zoom range in a trouser, nay underpants untroubling package, measuring just 4.4 x 2.2 x 0.9 inches.
Using the same twin lens technology seen in its earlier V570 model, the V610 comes with a large 2.8-inch, high-resolution (230,000 pixels) LCD screen and 28 megabytes (MB) of internal memory.
There's also Bluetooth support onboard, making it easier for snappers to dish out their photos to nearby chums with PDAs, mobile phones and computers or to beam 'em off to Picture Kiosks.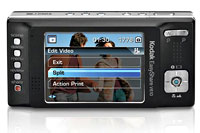 Naturally, this little fella shoots video – managing TV-quality (VGA) footage at 30 frames per second (fps) – saved out as MPEG-4 files with Kodak's "video-specific image stabilisation technology" claiming to reduce that wobbly jelly camera effect.
Bathing in the warm glow of technological progress, Carolyn Walsh, Product Sales Director Digital at Kodak, hit PR overload: "Kodak innovation continues to make it easier for people to take and share better, sharper pictures. We're creating cameras for the digital age, breaking traditional constraints by using multiple light paths, lenses and sensors; by incorporating wireless technologies; and by taking advantage of advanced digital processing algorithms."
Also on board is Kodak's 'Perfect Touch Technology' for boosting up duff, dull pics, a 'Favourites' mode for storing a hundred fave pics on a built-in album and a panorama stitching feature.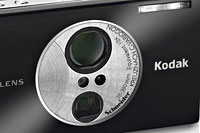 When it comes to auto modes, Kodak haven't held back with no less than twenty-two scene modes, three colour modes and a custom mode, along with selectable exposure metering, exposure compensation, focus zones, ISO, and single/continuous auto-focus for precise control.
And if you can't manage to take a decent picture with that lot on board, perhaps you'd be better off with some crayons and paper.
The Kodak Easyshare V610 zoom digital camera will be available in the UK in May 2006 for around £350.
EasyShare V610 specifications
Sensor 6.1 million pixels total
2832 x 2128, 2832 x 1888 (3:2), 2304 x 1728, 2048 x 1536, 1200 x 900 (email)
Movie clips 640 x 480 @ 30fps, 320 x 240 @ 30fps up to 80mins depending on memory capacity
File formats JPEG (Exif 2.21), MPEG 4 with audio
Lens Schneider-Kreuznach C-Variogon Dual lens, 10x optical zoom, 38-114mm F3.9 – 4.4, 130-380mm F4.8
Digital zoom 4x
Focus TTL-AF, Multi-zone AF, Center spot AF, AF area modes, Single AF, Continuous AF
Focus distance Wide: 0.6m – infinity
Wide Macro: 0.05m – 0.7m
Tele: 1.6m – infinity
Tele Macro: 0.7m – 1.7m
Metering TTL-AE, Multi-pattern, Center weighted, Center spot
ISO sensitivity Auto (ISO 64-400), ISO 64, ISO 100, ISO 200, ISO 400, ISO 800
Exposure compensation +/- 2.0EV in 0.3EV steps
Exposure bracketing 0.5-8 sec
Shuttter speed 8-1/1200 sec
Aperture F3.9 – 4.4, F4.8
Scene modes Auto, Portrait, Panorama left-right, Panorama right-left, Sport, Landscape, Snow, Beach, Text, Fireworks, Flower, Manner/Museum, Self portrait, Party, Children, Backlight, Panning shot, Candlelight, Sunset, Custom
White balance Auto, Daylight, Tungsten, Fluorescent, Open shade
Self timer 10 sec, 2 sec, 2 picture
Continuous shooting 1.6 fps, max 8 images
Image parameters High Color, Natural Color, Low Color, Sepia, B&W
Flash Built-in, Auto, Off, Fill, Digital red-eye reduction
Range: Wide: ISO 280: 0.6m – 3.4m
Tele: ISO 400: 0.6m – 3.3m
Viewfinder No
LCD monitor 2.8-inch, 230,000 pixels
Connectivity Bluetooth 2.0 EDR, AV out, USB 2.0
Weight (no batt) 160 g (5.6 oz)
Dimensions 111 x 55.5 x 23.2 mm (4.4 x 2.2 x 0.9 in)