Google is launching an upgrade to its toolbar for Mozilla's Firefox browser, adding enhancements to the search box and an antiphishing feature.
Google Toolbar 2.0 will now offer suggestions on the fly for narrowing queries and correcting spelling – great news if yore speling esn't up to muuch.
The all-new, turbo-charged search box also remembers previous query terms inputted by a user – as well as bookmarks – and serves them up as query suggestions, with a handy drop-down menu letting users select which part of Google's empire to search.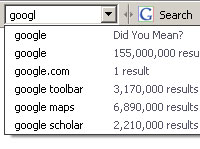 The new release includes feed integration with the Google Personalised Homepage, with the toolbar automatically detecting Web content available for subscription, and a click of the "Subscribe" button taking users to their preferred feed reader.
Pheck Off Phishers
To help battle against pesky phishers, the upgraded Firefox toolbar includes Google's Safe Browsing extension.
Previously an optional add-in, this feature warns users when they innocently roam onto Websites that could be a phishing trap, with Google using clever-clogs advanced algorithms and reports about dodgy pages to flag up the iffy sites.
Gmail users should like the new feature that opens mailto: links on webpages straight into a compose window in Gmail – no need to copy and paste emails off Webpages.
"We've made searching better by including previous queries, spelling corrections, and suggestions for popular choices", a company employee purred on the Google Blog.