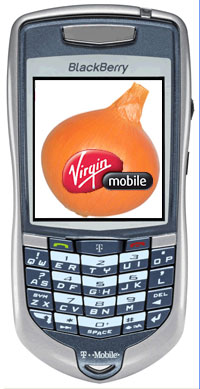 Beardy rich bloke Richard Branson has picked up a baguette and waved it angrily at French telecom suppliers, accusing them of "ripping off" consumers as he launched his new Virgin Mobile service in France.
" In examining the French market we saw the bulk of people in France have been ripped off big-time," table-thumped Branson at the media launch, before unveiling ambitious plans to recruit one million customers to Virgin Mobile in the first three years of operation.
Branson has teamed up with Europe's grand fromage mobile retailer, Carphone Warehouse for the Virgin-branded venture, which will offer services through mobile phone operator Orange's network.
The French market – long seen as one of Europe's least competitive mobile markets – could prove highly profitable for Branson who said that pressure from regulators had gifted Virgin the opportunity to set up a mobile virtual network operator (MVNO) in the country.
Branson's Virgin Group were one of the early adopters of the MVNO concept in the UK, building the network into the UK's fifth-largest mobile brand by customers, before exporting operations into the US, Canada and Australia.
France is currently dominated by its three network operators: Orange, Bouygues Telecom and SFR, all of whom have remained tight-lipped on the news of Virgin elbowing onto their turf.
They should be worried though, with Virgin's rates set to undercut the competition with pre-paid services offered at a basic 0.42 euros a minute compared to the usual €0.48-0.55 rate.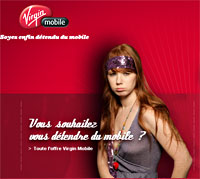 To further tempt Frenchies, Virgin will be offering free SMS text to subscription customers signing up for 12 month deals (although Orange can review this later if its network subsequently becomes overloaded.)
Marketed and distributed through Carphone's 200+ Phone House Stores and Virgin's Megastores music stores, Branson is hoping to create a buzz in the younger market that will filter up to the crumblies.
"The marketing is aimed at young people because older people will buy what young people are buying, but young people won't necessarily buy what older people are buying," he commented.
NTL Deal set to finally go ahead
Elsewhere, NTL's bid for Virgin Mobile – which has dragged on for an eternity – looks set to be sealed this week.
NTL are expected to announce that the Virgin Mobile board has accepted a revised offer – first rumoured in December last year – that will see Virgin's mobile phone services added to to NTL's 'triple-play' packages of voice, broadband Internet access and television.