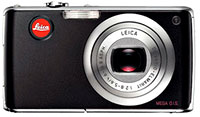 Leica has released details of their new Leica C-Lux 1 camera, an ultra compact number which claims to be the world's smallest camera with a 28mm lens.
Basically a Panasonic Lumix DMC-FX01 slapped in a snazzier case and rebranded as a Leica, the compact 6-megapixel digicam sports a 28mm-102mm zoom lens, a high sensitivity mode (up to 1600) and a 16:9 widescreen movie mode.
Available in black or silver, the metal-bodied C-Lux 1 is a highly pocketable affair, measuring 9.4cm x 5 cm and weighing just 160 grams with battery and SD card fitted.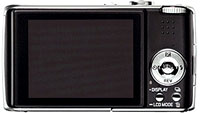 The f2.8 – f5.6 zoom lens offers a normal focusing range of 50 cm to infinity, with the macro setting getting close up and personal at 5 cm at the wide position and 30 cm for telephoto.
As with the Lumix, there's a vast array of scene modes available, including useful presets for portraits, sports, fireworks and night scenery and a rather curious 'baby' setting (perhaps it adds an "aaaaaah!" soundtrack?).
The C-Lux 1 offers shutter speeds ranging from 8 to 1/2000 second, with 15, 30 and 60 seconds exposures available in Starry Sky mode (unless you've got three legs and an inert body, you'll need a tripod for that).
As with previous Lumix/Leica cameras, the menu system is one of the best around with lots of well-presented onscreen information.
Panasonic's capable Optical Image Stabilisation system is also onboard to keep away the wobbles, with a hefty 2.5-inch TFT 207k colour display dominating the rear of the camera.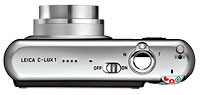 Early reports have commended the camera on its sharp, high resolution output, but as with the Lumix LX1 (branded as the Leica D-Lux 2) noise levels rise sharply as soon as the ISO hits 200 and above.
There are three movie modes on offer; 848 x 480 pixel (widescreen), VGA and QVGA, all at either 30 fps or 10 fps, with recording times limited by memory card capacity.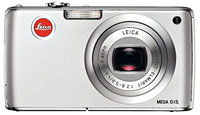 Supplied with a high-capacity rechargeable lithium-ion battery plus a posh leather case with micro-velour lining, users can expect to pay a hefty premium for the privilege of flashing a Leica-branded camera about.
Cheapskates and the less fashion conscious may want to consider buying the near-identical Panasonic Lumix DMC-FX01 (see DPReview.com review).
Leica C-LUX1 specifications
6.37 Megapixels, 1/2.5 inch CDD image sensor
Leica DC Vario Elmarit ASPH lens
Optical image stabilizer
3.6x optical zoom (28-102mm in 35mm format)
JPEG (Fine/Standard) format
Video 16:9 format 848 x 480 pixels, 4:3 format 640 x 480 pixels
Secure Digital and MultiMediaCard support
ISO 80, 100, 200, 400, 800, 1600
Auto focus
2.5 inch LCD, 207,000 pixels
Lithium Ion 3.7 V, 1150mAh battery
USB 2.0 Full speed interface
Dimensions 94.1 x 51.1 x 24.2 mm
Weight 132 grams