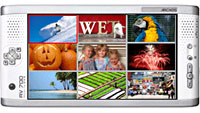 French outfit Archos has launched what they claim is the first portable digital TV receiver/ recorder combining portable video recorder (PVR) functionality and two DTT (Digtial Terrestrail Television) tuners.
Sporting two antennas working in parallel and two DTT tuners, the AV 700 TV uses a 'mobile diversity processing reception system' which improves reception inside buildings and on the move.
The makers claim that that digital TV can be viewed in cars hurtling along at speeds up to 130 km/h [80mph] – something that isn't possible with standard single-antenna DTT receivers.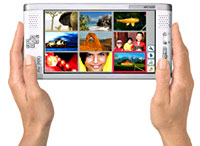 The built-in DVR records digital TV directly to the hard disk in MPEG2 TS format, and there's an onboard Electronic Programme Guide (EPG) for scheduled recordings (so long as you can get reception, natch).
With its 7″ (480×234 pixels, 262k colour) wide screen display, it's a chunky gizmo which would have trouble fitting into even Fatty Arbuckle's capacious pockets.
With its 40GB storage capacity, the AV 700 TV can squeeze in up to 35 hours of recorded digital TV programs, 130 hours of encoded videos, 400,000 photos or 20,000 songs, which should be enough to keep even the most hyperactive teenager entertained between Coke cans.
An optional 100GB version offers even more storage, which equates to, err, lots more videos, songs and stuff.
Handily, users can preset up to five different locations (e.g. home, work, pub) to avoid wearing out the retune control as they amble between transmitters.
Henri Crohas, ARCHOS CEO was well chuffed, declaring his company to be, "elated to be part of the exciting new wave of digital TV technology" and "proud to introduce a portable device for viewing and recording free digital TV in all sorts of places outside the living room."
He then rather blotted his copy book be referring to the beautiful game as 'soccer', while declaring the AV 700 TV to be the "perfect gadget to watch and record the World Cup soccer championship this summer wherever you are."
"Imagine recording a match while at work and then watching it during the nightly commute back home," he added.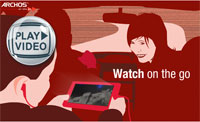 We reckon that someone whipping out a large, expensive multimedia device on a London train would soon have no trouble imagining filling in an insurance claim, but with no UK launch announced, perhaps the muggers will have to wait for now.
However, the AV700 is expected to available in Europe around May with pricing hovering around the €700 (£485) mark.
Specifications
Capacity: 40 GB Hard drive 100 GB Hard drive
Display: 7″ LCD 480×234 pixels, 262 000 colours and TV output.
Video recording: MPEG-47 SP and stereo sound, optimised resolution for TV up to 640×480 @ 30 f/s, in AVI format
Video playback: MPEG-47 SP with B-Frames with stereo sound. Near DVD quality up to 720×480 @ 30 f/s (NTSC), 720×576 @ 25 f/s (PAL), AVI file format. WMV9 (including protected files) up to 352×288 @ 30 f/s, and 800 KBit/s4.
Music recording: From an analog source in stereo sound for WAV (PCM & ADPCM) format.
Music playback: Stereo MP3 decoding @ 30-320 kb/s CBR & VBR, WMA (including protected WMA files), WAV (PCM & ADPCM).
Photo viewer: JPEG (except progressives) or BMP.
AV connections: Earphones / Audio & Video line out. TV pod with video pass through, AV in & out cables (SCART In & Out for European version) and IR emitter cable for tuner control of VCR, cable box or satellite receiver.
Speaker: Built-in speakers.
Interfaces: USB 2.0 high-speed device, compatible USB 1.1, PC & Mac.
USB Host port compatible Mass Storage Device.
Battery life: Up to 30 hours, 6 for music. Up to 4 hours6 for video on built-in LCD. Removable battery (additional battery optional)
Dimensions: Approx. 10.7 x 20.9 x 1.9 cm – 4.2″ x 8.2″ x 0.8″
Weight: Approx. 590 g – 20.8 oz
Package includes: AV 700, USB 2.0 cable, USB host adapter, AC adapter & charger, stereo headphones, protective case, user guide, TV Pod, remote control (with batteries), audio/video cables (SCART in and SCART out for European version). Archaos