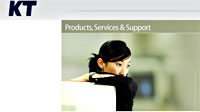 Slimmer than a stick insect with the runs, the new world's thinnest phone comes in the shape of the EV-K100 handset, an ultra-thin gizmo made by Korean cell phone makers KTF Technologies.
Measuring a wafer-thin 7.9-millimetre, the EV-K100 grabs the 'world's slimmest' crown from local rivals VK, whose VK2010 and VK2100 phones measured up at a comparatively lardy, pie-scoffing 8.8mm (with Motorola's RAZR being a positively obese 14.5-mm thick).
At the time, VK president Yi Cheol-sang insisted that 8.8 millimetres was as thin as things could get, commenting that the technology demanded an antenna of at least 7 millimetres thick and a pair of plates of 1.8 millimetres.
The clever boffins at KTF Technologies overcame this barrier – and got one up on their rivals – by slashing the thickness of the embedded antenna using some clever jiggery-pokery which they're naturally not too keen to divulge.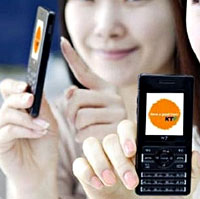 "We substantially cut down the thickness of the antenna incorporated into the EV-K100 and instead extended its length to secure all the necessary functions," said a KTF spokesman.
The EV-K100 weighs just 60g, but still manages to fit in a decent feature set, with a built-in 1.3MP camera, 1.8-inch liquid crystal display monitor, an MP3 player and a sizeable 165MB of onboard memory.
"Our ultra-slim phone would be a grand slam since it offers rich applications at a reasonable price. The slimness will also arrest the attention of design-savvy customers," purred their spokesman.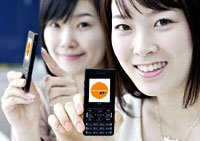 The company intend to market the bar-type EV-K100, codenamed "No. 7," from next week via its parent firm KTF for around 400,000 won ($412).
Naturally, there's no indication whether us Brits will ever be able get our grubby, chip-eating mitts on one of these cool-looking gadgets, but we can dream…