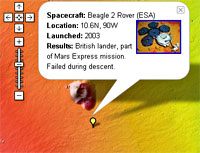 Google's plans for galaxy-spanning domination have continued apace with the launch of Google Mars, giving surfers the opportunity to explore the surface of the Red Planet.
Coinciding with the arrival of the MRO (Mars Reconnaissance Orbiter) into Mars orbit on Friday, the new map of the Red Planet offers a familiar 'Google Earth'-like interface with three viewing modes.
The Elevation mode offers a shaded relief map, colour-coded by altitude and generated with data from the Mars Orbiter Laser Altimeter (MOLA) on NASA's Mars Global Surveyor spacecraft.
The Visible mode gives a bird's eye view of the planet (yes, we know there aren't any actual birds there), displaying a mosaic of images taken by the Mars Orbiter Camera (MOC) on NASA's Mars Global Surveyor spacecraft.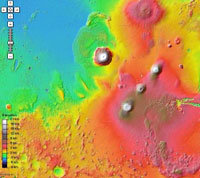 Finally, the Infrared mode offers a mosaic of infrared images taken by the Thermal Emission Imaging System (THEMIS) on NASA's Mars Odyssey spacecraft.
In this view, warmer areas appear brighter, and colder areas are darker, and because clouds and dust in the atmosphere are rendered transparent by infrared, the map is incredibly sharp.
Using the Google Mars interface, it's possible to view and zoom into areas by categories – mountains, canyons, dunes, plains, ridges and craters – or by regions.
You can also track the landing sites of failed and successful space missions and find the probable crash landing site of the much loved – but totally unsuccessful – Beagle 2 mission.
A listing of Mars related stories, articles and links wraps up the feature list of this impressive resource.
Google Mars appears to be just a small step for Google's space plans with the company owning domain names for all the planets.