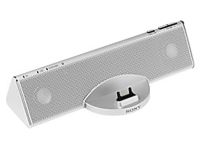 There was a time when the word 'dock' only conjured up visions of dirty great harbours full of ships, cranes, an angry Marlon Brando and beefy tattooed blokes lugging great sacks around the place.
But to your average teenager, a 'dock' is now simply something they slam their phone or iPod into for recharging or connecting to their computer, and keen to keep up the connection, Sony Ericsson have just announced a new docking wotsit for their phones, the MP001.
It's not going to be battling for design awards, but it's an attractive enough device (as docking cradles go) and capable of belting out a very reasonable 25W (RMS) of sound through the built-in amp and speakers.
Powering the silver, triangular dock is Sony's very own S-Master Digital amplifier, with onboard digital signal processing (DSP) keeping the sounds sweet.
This is the very same amplifier found in some Sony home cinema kits and car audio systems and, coupled with the built in sub-woofer speaker, there's a good chance that this mini system will make a decent racket for its size.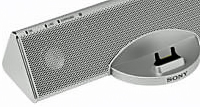 So long as your phone has a FM tuner, it can be activated as soon as you plonk the handset into the cradle, letting the MP001 double up as a home radio system – neat.
Naturally, the phone is automatically charged while you're getting on down to your sounds and long-term sofa residents will appreciate the bundled basic remote control offering volume, bass and treble control.
Daniel Svoboda, Sony Ericsson's General Manager, Home Electronics Marketing Europe was suitably enthusiastic, "Something like this is perfect for so many types of people. Teenagers, students, office workers, basically anyone who wants to use their music phone to the full."
The MP001 is only compatible with Sony Ericsson music phones with Fast Port and is due to go on sale in the UK around June. No word on pricing or availability yet.