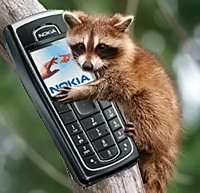 With a bonkers new naming strategy that suggests the creatives may have been on something stronger than caffeine, Orange have launched a new tariff that links customer behaviour with animal characteristics.
Backed by a whopping great £10 million advertising campaign running to the end of the year, Orange's new pricing scheme comes in four, err, animal type packages.
The 'Dolphin' package is aimed at those who "like to text a lot," The 'Panther' package is "for people who like all the extras" and offers inclusive 3G minutes, while the 'Canary' deal is for "people who love to chat," and comes with Orange to Orange off-peak minutes.
Finally, the 'Raccoon' package is for grumpy hairshirt types who "want no nonsense basics" and demand a "tool, not a toy."
Possibly recovering from a hurricane of flip-chart activity, Orange's Neil Macgeorge, reflected on the lengthy brainstorming sessions which saw finger-clicking creatives initially mull over food types and fabrics as possible tariff names.
As the double skinny cappuccinos flowed, it was eventually decided to run with the animals idea as it – apparently – "really resonated with consumers across the board."
We're not entirely convinced that customers will appreciate being labelled a Racoon, but Macgeorge was on-message as he explained their philosophy;
"Over the past year we've been looking at the whole market and evaluating exactly how, when and why people use their phones. From that data, we then identified four clear behavioural patterns around which we've built our new packages."
"Consequently, we're shifting the way we sell services to customers and changing the headlines on the high street from complicated tariff tables to simple messages. We're focused on offering packages which are designed to meet the different needs consumers have," he added.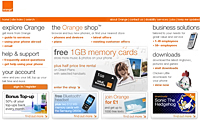 Initially launching to Pay Monthly customers, the animal packages will be made available to Pay as you go customers later in the year.
Here's some examples of how the pricing tariffs pan out:
For thirty quid (£30), a chattering Canary gets 200 any network minutes, plus 75 texts and 50 Orange off-peak minutes, while a cheapskate Racoon would get 200 minutes plus 50 extra fixed line minutes.
For the same price, Dolphins get 100 minutes and 200 texts, while Panthers can only prowl on to the network for £45/month, which buys them 400 minutes, plus 100 texts and 25% extra anynet minutes if they buy a 3G handset.
To keep the, err, animals grazing on Orange's pastures, customers choosing to fork out for an 18 month contract will gain access to Orange's newly introduced "Magic Numbers" deal.
Nothing to do with the indie-pop band of the same name, a 'Magic Number' is simply a customer's most frequently called Orange number and under the scheme they'll be allowed to make calls of up to an hour to that number and only pay for a minute.
To keep the herd from straying, Pay Monthly customers will be able to choose an additional Magic Number every six months.