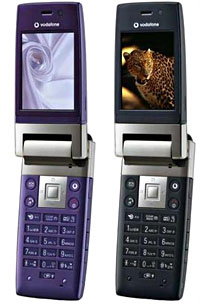 Vodafone's new high end 904SH (Sharp 904) 3G handset may look like any other twisty clamshell phone, but it has a cunning twist or two lurking inside its attractive, squared off lines.
The first is a novel inbuilt security system that works by face recognition – so when Peter the Pesky Phone Pickpocket tries to make a call on his purloined phone, a quick scan of his thieving face will tell the phone to shut up shop.
The system uses the sub-camera by the main display to authenticate owners by sensing the position of their eyes, eyebrows, mouth and other facial features.
Once a customer's face is registered with the phone, the camera will automatically activate when the handset is opened and scan the phizog while keeping the keypad locked.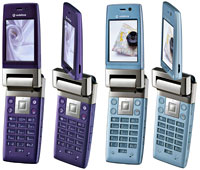 If it likes what it sees, it will ask for the answer to secret question (already inputted), and if that's correct the phone will be ready for use. Vodafone say the whole validation process should take less than a second.
How effective this will be in real life is anyone's guess, but it's an interesting concept that could go some way to reducing phone theft (until someone comes up with a crack for the system, of course).
The other unusual feature is a built in 3D motion sensor which measures the handset position in all directions in 3D, plus directional acceleration (like the Nintendo Revolution controller).
Designed to work with the Japanese Vodafone Live! NAVI service, the phone comes with a pre-installed trial version of "Seiza o Sagaso", a frankly bizarre application that displays constellations in real time depending on how you're pointing your mobile at the sky
We'd rather have a program that points us in the direction of the nearest pub or taxi to be honest, but we guess there must be a market for it in Japan.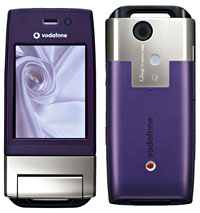 Back to the phone itself, the design uses a smart flip and swivel screen with the large screen packing in a massive VGA display – that's 480×640 pixels, the same resolution as old 14″ monitors!
Although the screen measures a relatively modest 2.4″ diagonally (61mm approximately), it can display four times the pixel count of QVGA (240×320 pixels) models – which must make it highest resolution screen of any clamshell handset currently available.
There are loads of other goodies onboard too, with the camera boasting an impressive 3.2 megapixel camera with 2X optical zoom, miniSD card slot, twin speakers and a secondary camera for video calling.
There's also support for funky new Bluetooth services which let users share instant messaging and multiplayer games within an approximate 10-metre radius, all for nowt.
The 904 also comes with a WAP browser, email client, e-wallet, various games and multimedia playback applications, plus some of those crazy things that the Japanese go berserk for, like a comic book viewer and karaoke application.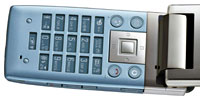 With all that gadgetry inside it's not surprising to find that the 904 is a bit of a pocket bulging beast, measuring 104 x 50 x 28mm and weighing 151 grams.
Talktime on 3G is around 3 hours with 15 days standby time and with support for UMTS 2100 (3G) and GSM 900/1800/1900 with GPRS, the phone can be used pretty much anywhere
Exclusively built by Sharp for the Vodafone network, the phone will be available in Japan in April 2006, with no set date for a European release yet (although there's a good chance that this one will make it over here).