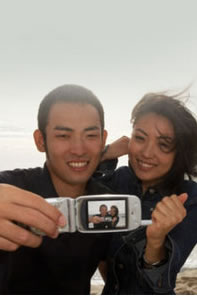 We covered ShoZu winning an award to last weeks 3GSM. Sadly we'd hit problems trying to test it out, but here's the update.
Thanks to the top brass at Shozu for getting in touch to remedy our installation hiccups. Before the contact, we'd loaded another browser (Firefox over Safari, which didn't hang) and managed to get the WAP download link onto our trusty Sony k750i.
The next problem we hit was of our impatient making. When getting the downloaded app authorised to use the phones Internet connection and access out photo's on-board, we didn't read the message fully and only fixed the Internet problem – the message didn't reflect this.
We've now got it working and have been playing with ShuZo.
The problems we hit getting/authorising the ShuZo app on a myriad of mobile phones will be found by many others, and as far as we can see, there's no obvious way to tackle it without being very patient and holding the hand of the user.
Looks like a clear need for a standard for getting active mobile applications working across handsets.