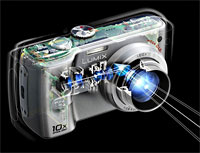 Panasonic have released two additions to their popular Lumix digital camera range which the company are claiming are the world's smallest in their categories.
The Lumix DMC-TZ1 is being touted as the world's smallest 10x optical zoom digital compact, while the equally diminutive Lumix DMC-FX01 claims the honours as the smallest digital compact with a 28mm wide-angle lens.
Lumix DMC-TZ1
Billed as "the ultimate travelling companion", the DMC-TZ1 uses a cunning optical system using folded optics, a retractable lens system and a prism to offer the immense 10x zoom range (35-350mm equiv, F2.8-5.0).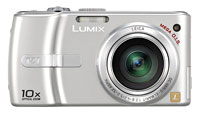 The 5 megapixel camera comes with Panasonic's well regarded optical image stabilisation system (you'll definitely need that at the far end of its monster zoom) and sports the newly developed Venus Engine III, offering quick response times and an improved battery life (250 shots).
The Lumix looks to be faster than grit off a shovel with its new Linear AF system claiming an industry-leading high speed AF performance, with the makers boasting a super-nippy shutter release time of 0.006sec minimum, a shutter interval of approximately 0.5 seconds and up to three frames per second in full resolution.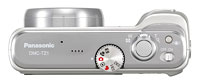 After the dire high ISO performance of the Lumix flagship model, the LX1, we were happy to see the new Venus Engine III claiming to "dramatically reduce noise levels at increased ISO settings", with ISO selectable from ISO80 to ISO800 (with a High Sensitivity Mode from ISO 800-1600).
Like the LX1, the TZ1 can record widescreen movies at 848 x 480 (and 640 x 480) at 30 fps with sound and comes with zillions of scene modes but no manual mode.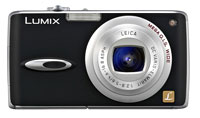 There's also 13.4 MB of internal memory onboard, a SD/MMC card slot and a 2.5-inch, 207k pixel TFT LCD.
The camera is expected to be in the shops in March for $349.95 (~£207, ~€294).
Lumix DMC-FX01
The successor to the DMC-FX9, the new 6-megapixel Lumix DMC-FX01 is another petite chappie, boasting an impressively wide 28mm Leica DC zoom lens.
The FX01 incorporates the Venus Engine Plus LSI, offering 320 pictures on a single charge, a 1.6 second start up time (20% less than the DMC-FX9) and a 0.005 second shutter lag.
The new High Sensitivity mode allows low light shooting up to ISO 1600, with the built in Optical Image Stabiliser keeping the shakes at bay.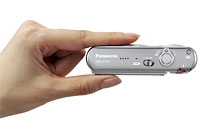 The f/2.8, Leica zoom lens gives users a handy wideangle range of 28-102mm equiv., and the camera come with the usual smorgasbord of scene modes for every conceivable occasion.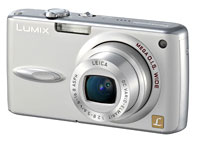 The camera is also expected to be out in March for $349.95.