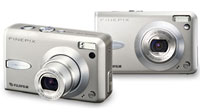 With PMA 2006 (Photo Marketing Association International) looming ever closer on the horizon, there's been a flurry of new camera announcements, and of real interest is Fujifilm's successor the award-winning FinePix F10/F11 digital compacts, the new 6.3 megapixel Fujifilm FinePix F30.
Fuji are billing the F30 as the world's first digital compact camera to feature an incredible IS3200 sensitivity at full resolution – that's eight times as effective in low light as a conventional compact with IS400.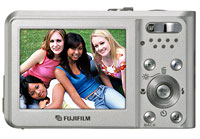 The camera comes with a 3x (36-108mm equiv) F2.8-8 zoom and uses a sixth generation Super CCD and Fujifilm's groundbreaking Real PhotoProcessor II.
Although we would have liked to have seen an optical stabilisation system built in, the high sensitivity rating should prove effective for freezing action and producing atmospheric shots in dark lighting.
As with the F11, the camera boasts a sizeable 2.5-inch LCD screen, coated with Fujifilm's proprietary CV film for reducing glare and reflection.
The overall layout of the F30 remains the same as the F11, although the design has been tweaked slightly with a new mode selection switch and some smoothed body lines.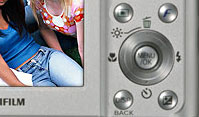 We like the addition of a dedicated exposure compensation button on the back of the camera as we found some functions on the F11 to be annoyingly buried deep in menus.
Shutter lag and start up time remains nippy (0.01 and 1.4 second respectively) and there's a new 'intelligent flash' system onboard which takes uses the camera's high sensitivity to combine natural foreground illumination with balanced exposure in the background.
This, claims Fuji, will avoid, "both the messy background blur of 'slow-sync' flash, and the stark contrast of conventional flash."
Sticking with their annoyingly obscure xD-Picture Cards, the FinePix F30 boasts an exceptional 500-shot battery life and should be available from UK retailers in May 2006.
Pricing to be announced nearer to the date of retail launch.
Sensor 1/1.7 " Type CCD, 6.3 million effective pixels
Image sizes 2848 x 2136, 3024 x 2016 (3:2), 2048 x 1536, 1600 x 1200, 640 x 480
Movie clips 640 x 480 @30fps, 320 x 240 @30fps with Monoaural sound
File formats JPEG (Exif 2.2)
Movie AVI (Motion JPEG)
Lens 36-108mm equiv, F2.8-8, 3x optical zoom
Focus AF with Macro
AF area modes Center, Multi
Macro 5cm (wide)
Metering 25- zone TTL
ISO sensitivity Auto, 100, 200, 400, 800, 1600, 3200
Shuttter speed 1/2000-15secs
Aperture F2.8-8
Modes Auto, Program AE, Aperture Priority, Shutter Priority, Burst/Continuous
Scene modes Natural light, Natural light with flash, Portrait, Landscape, Sport, Night, Fireworks, Sunset, Snow, Beach, Underwater, Museum, Party, Flower close-up, Text
White balance Auto, Fine, Shade, Fluorescent light (Daylight), Fluorescent light (Warm white), Fluorescent light (Cool white), Incandescent light
Self timer 2 or 10secs
Continuous shooting 2.2fps max 3 images
Image parameters Standard, Chrome (vivid), B&W
Flash Auto, Intelligent flash mode, Red eye reduction, Forced flash, Supressed flash, Slow synch, Red eye reduction & Slow synch
Viewfinder No
LCD monitor 2.5-inch, 230,000 pixels
Connectivity USB 2.0 high speed, Video out
Print compliance PictBridge
Storage 10MB internal memory, xD-Picture Card
Power NP-95 Li-ion battery
AC adapter AC-5VC included
Weight (no batt) 155 g (5.5 oz)
Dimensions 92.7 x 56.7 x 27.8 mm (3.6 x 2.2 x 1.1 in)