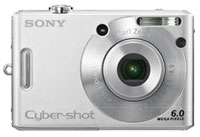 Ahead of the big PMA (Photo Marketing Association International) show at the end of the month in Florida, Sony has announced two new 6-megapixel cameras in their 'W' range.
The ultra-compact Cyber-shot DSC-W30 and DSC-W50 models feature optical viewfinders, Sony's Clear RAW imaging technology (claimed to produce low noise images up to ISO 1000), a 3x zoom and 2.0-inch and 2.5-inch screens, respectively.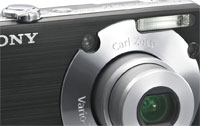 Looking somewhat reminiscent of the Canon Ixus / Elph range, the miniaturised, re-engineered W-series offers a compact, highly pocketable design (89x59x23mm) with a price that's easy on the pocket too, with the DSC-W30 retailing for $230 (~£132, ~e193) and the DSC-W50 for $250 (~£143, ~e209).
Both cameras follow the trend of offering high light-sensitivity settings (in this case, up to ISO 1000), letting snappers capture fast-moving subjects and take more natural-looking low light shots without flash.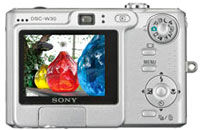 At higher ISO ratings noise can become a real issue, but Sony are claiming that their Clear RAW imaging technology keeps the multi-colour snow-storm effect to a minimum.
Boasting 400 shots on a single charge, the DSC-W30's batteries should provide enough juice to keep compulsive photographers going all day, while Sony's Real Imaging Processor circuit claims to deliver quick start-up and fast shot-to-shot times.
Both cameras come with 32MB of internal memory, with Sony sticking with their propriety Memory Stick Duo storage, offering capacities up to 2GB.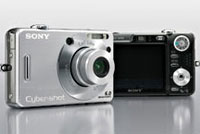 To help fumbling newbies and the easily baffled, Sony has added a new function guide which displays a short onscreen text explanation whenever a shooting mode is selected. This can be turned off once the user becomes familiar with the icons on the mode dial.
The Cyber-shot DSC-W30 should be available later this month, with the DSC-W50 following in March.
SC-W30/DSC-W50 specs:
Sensor 1/2.5 " Type CCD, 6.0 million effective pixels
Image sizes 2816 x 2112, 2816 x 2112 (3:2), 2048 x 1536, 1920 x 1080 (HDTV), 1632 x 1224, 640 x 480
Movie clips 640 x 480 @ 30 / 16fps, 320 x 240 @ 16 / 8fps, 160 x 112 @ 8fps
File formats Still: JPEG
Movie: MPEG VX
Lens 38-114mm, F2.8-5.2, 3x optical zoom, Carl Zeiss Vario-Tessar
Focus 5 area Multi-point AF, Single, Monitoring
Metering Multi-pattern, Center-weighted, Spot
ISO sensitivity Auto, ISO 80, 100, 200, 400, 800, 1000
Shuttter speed 1/2000 – 1sec
Aperture F2.8-7.1 (wide) F5.2-13 (tele)
Modes Auto, Shutter priority, Aperture priority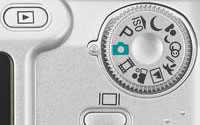 Scene modes Twilight, Twilight Portrait,Landscape,Beach,Snow,Soft Snap
Connectivity USB
Weight (no batt) DSC-W30: 123 g (4.5 oz)
DSC-W50: 127 g (4.7 oz)
Dimensions DSC-W30: 89 x 59 x 23 mm
DSC-W50: 89 x 57 x 23 mm