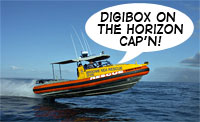 For the second time in a fortnight, coastguards have been scrambled after a digital TV box sent out a signal on a wavelength used by ships in distress.
Mrs Donaldson, a 67 year old pensioner in Plymouth, Devon, came back from an evening at the cinema to find investigators waiting outside her door, "holding a massive antenna."
After picking up the 'distress' signal from Mrs Donaldson's Freeview box, two lifeboats and a police launch spent a fruitless three hours searching 20 miles of coastline looking for what they believed to be a mystery vessel in trouble.
Two weeks previously, a faulty TV digital box in Portsmouth resulted in a coastguard helicopter from RAF Kinloss being scrambled for a two hour search of the harbour area before the signal was traced to a household inland.
RAF spokesman Michael Mulford confirmed that the Aeronautical Rescue Co-ordination Centre at Kinloss had detected the beacon – transmitting on the major emergency frequency – from one of five orbiting satellites.
Once the RAF had established that the source wasn't coming from a nearby vessel or missing plane, they contacted Ofcom who were able to track the signal down to a household.
At the time, an Ofcom spokesman was reported as saying that the signal was a "real one-off", adding that "digital boxes only receive signals." When we spoke to Ofcom today, they claimed to have said it was 'probably' a one-off.
Beacons not boxes
The frequency used by the digital Freeview set-top box (officially called the Civil Distress Frequency) exactly matched the one reserved for emergency distress beacons.
These beacons are carried by ships, yachts and aircraft, and when they come into contact with water, automatically broadcast a signal that identifies the vessel and its location.
Will the digi-TV rollout be scuppered?
With Digital TV boxes being responsible for two major incidents in just two weeks, some serious issues are being raised for the proposed roll out of digital TV in the UK.
Ofcom officials told us that they think that only two boxes failing out of the ten million Freeview boxes already sold isn't much of a problem.
But with the cost of the two wasted rescue operations exceeding what has been reported as £20,000, lifeboat crews have warned that such rogue signals could cost lives in the future.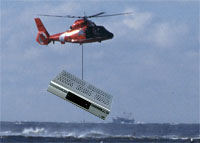 An Ofcom spokesman explained that the faulty boxes are now being examined for malfunctioning components, adding: "Apparently any device capable of receiving a signal can also send a signal if it malfunctions. To the best of our knowledge these are the only two out of millions of Freeview users in the UK to have experienced this problem."
Confusingly they said that they hoped to have the results of the tests in a 'couple of weeks,' but might not make the findings public. They refused to be drawn on who made the Distressing digi-box, or indeed if both boxes were made by the same company. They also wouldn't reveal the price range of the offending box.
Meanwhile, it looks like they'll be no shiny digital future for Mrs Donaldson who has said that she won't be getting a replacement box as she would "hate to cause more bother". Bless.