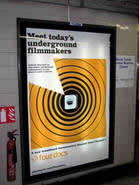 The easy way of getting "content" into a mobile phone, would be just to print 2D barcodes. However, Viacom Outdoor has started a rather more challenging experiment, fitting London Underground posters with Bluetooth transmitters.
The main reason Viacom has to do this, is that there's no cellphone coverage in London's deep-level underground railways – the Bakerloo, Victoria, Northern, Piccadilly and Central lines.
The network is said to be permanent, and was promoted as "Meet today's underground filmmakers" with FourDocs on Channel 4 television. The initial posters are in the inner city, and there are fifteen Bluetooth "jacks" built by Wideray.
Anybody within range can request a download of a four minute documentary.
The project was put together by PosterScope and we understand that Viacom has opened up the project to advertisers.
Guy Kewney write extensively, and quite brilliantly, in lots of places, including NewsWireless.net