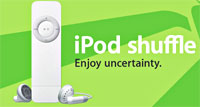 Keen to further expand their vice-like grip on the portable digital music market, Apple have unveiled a cut-down 1GB version of their turbo box-shifting iPod Nano player.
Apple are hoping that their new 1GB Nano iPod will lure in yet more punters with a wallet-tempting price tag of just $149 (~£86, ~€125), $50 less than the cheapest Nano currently available, a 2-gigabyte model.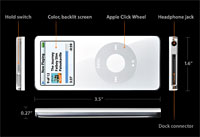 The new 1GB Nano can hold up to 240 songs or 15,000 photographs and comes with all the usual Nano features, including the colour display and docking connector.
The company have also announced price cuts for their entry level model, the tiny, screen-less iPod Shuffle which has been reduced to $69 (~£40, ~€58) for the 512MB model, and $99 (~£57, ~€83) for the 1GB model.
Apple are the undisputed lords of the US digital music device market with an estimated 70 percent market share, and these latest price cuts will no doubt have some rival product execs reaching for the bottle in desperation.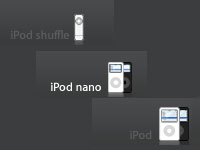 As Shaw Wu, an analyst with American Technology Research, put it: "Apple is selling a $69 MP3 player with the best software. How do you compete with that? It's tough."
"In the US market they have already won," he added, estimating that Apple currently has something like 40 percent share of the worldwide market.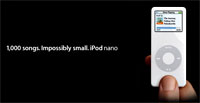 The iPod range continues to be an outrageously successful money spinner for Apple, with around 32 million iPods shifted last year, including 14 million during the holiday season.