In a significant new development, Channel 4 will be allowing their viewers to watch their new comedy program, 'The IT Crowd' online and on-demand in advance of their TV broadcast.
The new series, which stars Richard Ayoade from digital-lifestyles fave, Nathan Barley, centres around three people working in the IT department of a large firm.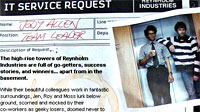 The online debut is a first for a terrestrial broadcaster in the UK and apes a similar strategy employed by US network NBC, which launched the US version of The Office online last year.
The first episode is scheduled to air on Channel 4 on Friday, February 3rd, but surfers have been able to view the entire show, on-demand, through the C4 Website since yesterday.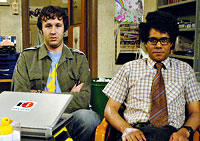 Channel 4 are saying that this is the first time that they've premiered a full episode of a new series, adding that they find it "particularly exciting " to be airing such a "high profile and apposite programme."
The content is free to view, with Channel 4 bods seeing the online offering as a way of extending a "buzz" around the show and "enhancing the marketing activity."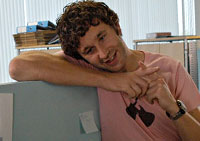 The program has already received substantial online coverage already with sites like MSN, Yahoo! and Wanadoo running features, and Channel 4 are hoping that the coverage will help in pull in viewers.
We haven't had time to watch the program yet (we're too busy slaving over a hot keyboard, goddamnit!), but we reckon the EFF sticker on the laptops was an encouraging touch.