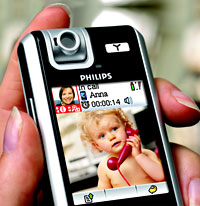 It's been a long time coming, but Dutch enormo-corp Philips are looking set to finally roll out their innovative Wi-Fi-enabled VoIP telephone, the VP-5500.
Currently only scheduled for release in the land of the cannabis café, the attractively styled VP-5500 is powered by Linux and lets users enjoy live video calls or – if they're suffering a bad hair day or caught in a compromising situation – make a conventional voice call instead.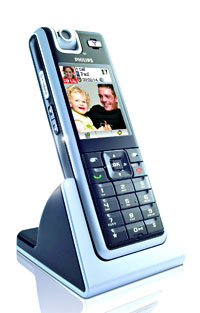 Announced way back in Sept 2005, the VoIP phone comes with a VGA camera that rotates up to 240 degrees, letting users check out their look on the built-in, high-resolution LCD display before committing a potential videocall fashion catastrophe.
Users can zoom in and capture still images for storing on the phone's internal memory, with roaming made possible thanks to a built-in speakerphone and hands-free headset compatibility.
Video calls are displayed on a large high-resolution colour LCD display, with a video out port letting others watch the video action on a TV set or see a slideshow of captured photos.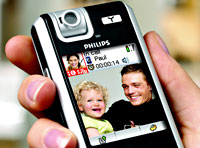 Built around established standards-based technologies like Wi-Fi and Linux, the VP5500 can be upgraded wirelessly, opening the door to future upgrades – giving operators the chance to add value-added services as the becmoe available.
Although no date has been set for a release outside of Holland, Philips has stated that it is looking to partner with third party operators in most European countries.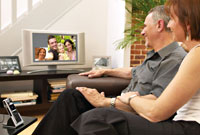 To be honest, we're still a little unsure about video calling.
Sure, there's a certain space-age charm in being able to see each other while you chat, but outside of the office environment we could see problems.
Would you really want your new date seeing you looking like a dishevelled prune when he/she rings early on a Sunday morning? Or your mum nagging you about your silly hairstyle when she rings up for a video-chat?
And work-shy shirkers ringing up the boss for a day off may have to now take on board acting lessons to accompany the well-trusted croaky voice routine…