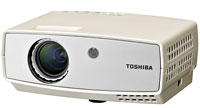 It wasn't that long ago that lugging around a projector was the first step on the painful route to a guaranteed hernia, but thanks to the wizardry of boffins and the onward march of technology, projectors are no longer the size of small houses.
If proof were needed of these amazing shrinking devices, Toshiba have announced the launch date of their TDP-FF1A Pocket LED Projector, first reported here in September.
The bijou little fella measures up at just 140x102x57mm and weighs in at a backpack-untroubling 565g – around 115g lighter than their Pocket Imager SP-300M (see below).
The contrast ratio is 1500:1, with the projector revealing the limitations of its diminutive proportions by only supporting resolutions up to 800×600.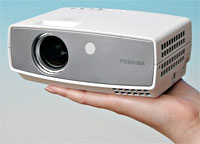 The TDP-FF1A (try saying that with a mouthful of tea) also comes with a handy USB port to let photographers directly display their photos straight off the camera.
For added portability, the device takes a 250g battery pack which delivers a claimed battery life of 2 hours.
The TDP-FF1A will go on sale January 2006, priced around €700 (£475, $842) – noticeably €300 down from its original announced price.
Samsung Pocket Imager SP-P300M projector.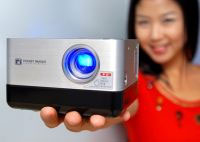 Also shown off at the September IFA 2005 in Berlin was Samsung's neat Pocket Imager SP-P300M projector.
Even smaller than the TDP-FF1A, the SP-P300M (P300) measures 128x85x53 mm, weighs a lightweight 680g and looks well cool.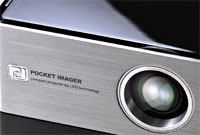 The attractive LED projector sports a contrast ratio is 1000:1 with an impressively high claimed bulb life of 10,000 hours.
An optional battery can keep the Pocket Imager doing its projecting thing for a claimed for 2.5 hours.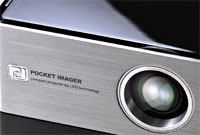 Samsung will be showing off the P300 at CES 2006 in Las Vegas, 5th-8th of January 2006 and the unit is expected to retail for about $1,060 (£507, €899).
These so-called "pocket sized" projectors look set to be all the rage in the new year, with both Epson and Mitsubishi also developing rival models.