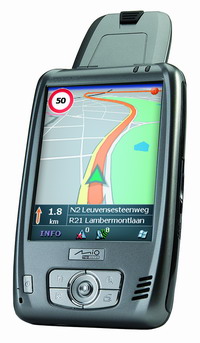 Out just in time for overgrown boys to stick it on their Santa wish list, Mio Technology have announced their new Mio A201 integrated GPS model.
In an increasingly crowded marketplace the Mio A201 aims to stand out from the pack by offering a rotating GPS antenna, letting users navigate in both portrait and landscape mode.
Screen modes can be automatically switched by rotating the antenna or tapping a button, with the addition of the latest 20-channel SirfStar III GPS Chipset enhancing GPS satellite signal pick up and reception.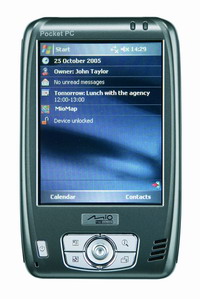 Mio are promoting the device as a 'go anywhere' portable sat-nav device which can be used for drivers, mountain bikes or walkers ambling through the countryside.
The Mio A201 is fully compatible with the TMC (Traffic Message Channel) which provides constant updates and routing options on nearby traffic problems, automatically calculating alternative routes through problem areas.
That all sounds great except users have to fork out extra for the required TMC receiver and even then the service doesn't work in the UK and France. But thanks for telling us what we can't use Mio!
The Mio A201 will, however, support the latest version of the Mio Map software, version 2 for Pocket PC, now sporting what the makers call a "fresh new interface."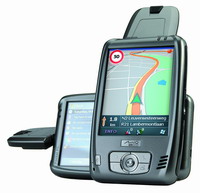 There's the usual Outlook synchronisation options available, and we rather liked the new Compass Mode designed for navigating off road on foot or on a bicycle.
The onboard Points of Interest (POI) database has also been updated to include restaurant telephone numbers, with the ability to download new or customised point of interest lists from a Web-based subscription service.
Running on Windows Mobile 5, the Sat Nav PDA sports a 320 x 240 pixel, colour LCD touch-screen and purrs along on a 312Mhz Intel Bulverde processor supported by 64MB of RAM.
Bundled software includes Outlook Mobile Contacts and Calendar, Word Mobile, Excel Mobile and PowerPoint Mobile, games and Windows Media Player.
There's Bluetooth connectivity onboard with the swappable lithium-ion 1200 mAh battery delivering a claimed 4.5 hours of operation.
The Mio A201 will be available mid- December priced at £239, with the stingy fellows not including any mapping software.