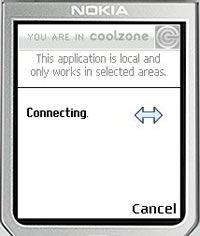 Today Nokia announced CoolZone, a Bluetooth-based distribution system that lets mobile phone users locally browse, pay for and download content on their mobiles while they are in shops supporting it.
When entering a CoolZone, the mobile user can download an application, customised for the retailer or service provider. Through this they can browse and download music, ringtones, wallpapers and videos which can be DRM protected. Paying for the content will be done at the shops till or using premium-rate SMS.
Firmly throwing the 'retail opportunity' language switch to on Sakari Kotola, Director, Nokia Ventures Organization said "Rich digital content is widely available and requires an efficient distribution channel. Local mobility solutions create new types of business possibilities to individuals, location owners and enterprises. CoolZone is a Bluetooth technology based content distribution system available to any retailer or location owner who wants to offer or sell digital content to their customers, and thus enhance the in-store experience,"
CoolZone is the short hand term to describe the Nokia Local Content Channel Solution. This consists of client software for the phone (Symbian client for Series 60, Java for Nokia Series 40 and other manufacturers' phones), a small multiradio Nokia Service Point (LCP10) installed in each service location and the Nokia Service Manager (LCM10) for centrally managing the service points and the content. While the service is currently Bluetooth based, WLAN will be one of expected additions in the near future, as more phones will offer WLAN capability.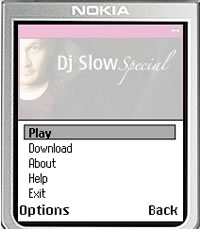 As the user of the service needs the user to download an application to use the service, we can imagine little hacking groups are already forming plans to hang around near these shops offering their own 'applications' with similar names to unsuspecting, or inexperience users.
While see this as a good step forward as a new ways distributing content – frankly we're surprised it's taken so long to come to reality, we'd thought of it years ago – it's acceptance among retailers will depend on the financial deal for the operators of these shops. Any retailer considering this will need to realise that anyone in their shop using this service will not be looking at the goods on their shelves when they've got their face stuck in their mobile, figuring out which tracks they want to download.
This could go some way to explain why the first limited trial is publicly available at three Free Record Shop music stores and three Rober's Coffee cafés in Helsinki area, Finland – they have no conflict of interest.
It may be that the slight headless-chicken-mode surrounding digital music current – as those who don't really understand what is happening but are wowed by the huge growth of iPod – will lead the retailers to blindly jump forward to have CoolZones on their premises.
CoolZone will also be demonstrated at the Nokia Mobility Conference 2005 in Palau de Congressos de Catalunya, Barcelona, Spain during November 2-3, 2005 with content from EMI.