All Your Google Base Are Belong To Us – headline explained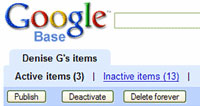 The web wires are waxing wildly with rumours about Google Base, a hush-hush Google project that "accidentally" appeared on the Web for a few hours yesterday.
The "inadvertent" (yeah, right) unveiling of base.google.com sent bloggers into a screengrabbing frenzy, prompting the search engine giant to confirm that the fleeting snapshot was indeed a legitimate Google page.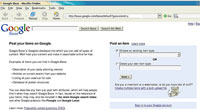 Under pressure from bloggers, Google company product manager, Tom Oliveri, revealed a little in his blog:
"You may have seen stories today reporting on a new product that we're testing, and speculating about our plans. Here's what's really going on.
We are testing a new way for content owners to submit their content to Google, which we hope will complement existing methods such as our web crawl and Google Sitemaps.
We think it's an exciting product, and we'll let you know when there's more news."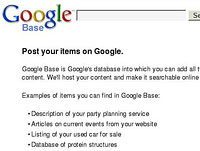 The screenshots revealed an entry page where Google suggests the type of information to submit to Base, with one sharp eyed Dutch blogger Wouter Schut, saying that the test pages also included presets for housing, products, reviews, services, travel, vehicles and want ads.
A Google Base screengrab posted on flickr revealed the following text:
"Post your items on Google.
Google Base is Google's database into which you can add all types ofcontent. We'll host your content and make it searchable online for free.
Examples of items you can find in Google Base:
• Description of your party planning service
• Articles on current events from your website
• Listing of your used car for sale
• Database of protein structures
You can describe any item you post with attributes, which will helppeople find it when they search Google Base. In fact, based on therelevance of your items, they may also be included in the main Google search index and other Google products like Froogle and Google Local."
Naturally, the speculation-o-meter has been in overdrive ever since, with many believing it to be the start of a foray into the online classified field, with Google placing popular services like eBay and Craigslist directly in their sights.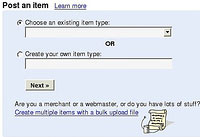 This service would let individual punters submit classified adverts for free on Google Base and could possibly signal the imminent arrival of the much rumoured Google Payment (aka Google Wallet) product.
Rumours have spun up to tornado force by a recent Classified Intelligence report which claimed that Google had been discretely asking job boards and other classifieds providers to submit feeds of their listings.
And while we're speculating with such wild abandon, we can't help thinking that if Google Base does indeed materialise, Google could offer sellers a GoogleTalk button for their listings and offer similar functionality to the much-anticipated SkypeMe buttons on eBay listings…