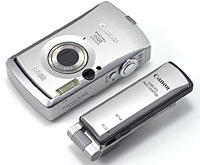 Canon are trumpeting that they are "bringing IXUS style and performance to the wireless age" with the release of their PowerShot camera.
Essentially a Powershot SD450 with Wi-Fi (IEEE 802.11b) bolted on, the compact camera comes with a 5.0 Megapixel CCD sensor, 3x optical zoom, 2.0″ LCD display and 14 shooting modes for creative experimentation.
The addition of the Wi-Fi gubbins means the SD430 offers direct printing to any to any Canon PictBridge compatible printer courtesy of the supplied Wireless Printer Adapter (WA-1E).
An Auto Transfer mode automatically transfers images to a nearby PC (with Canon's software installed) while the Wireless Remote Capture lets users fire off snaps from their PC – great fun for candid party shots and capturing scampering squirrels in the garden. If that's your bag, of course.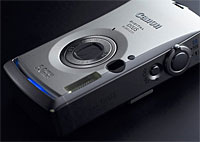 The camera can be registered with up to 8 target devices including wireless access points via a secure communication system to prevent eavesdropping or interception of your photographic masterpieces.
As well as industry standard WEP, the SD430 employs WPA-PSK with TKIP/AES encryption for enhanced data security.
"With wireless technology extending beyond the office to personal home networks, Canon expects Wi-Fi support to be the next big trend in the digital photography market," insisted Mogens Jensen, Head of Canon Consumer Imaging Europe.
"The Digital IXUS WIRELESS delivers freedom and ease-of-use that consumers expect from wireless devices," he continued.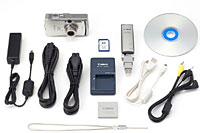 Although we naturally warm to the convenience and sheer 'techiness' of Wi-Fi enabled digital cameras, we remain to be convinced that the technology has reached maturity yet.
After all, firing off images wirelessly is no quicker than using a standard USB dock, there's no built in browser or infrastructure for shifting images when you're away from home (or at a photo printing lab, for example) and, of course, all that WiFi-ing is going to give your camera's batteries a slapdown.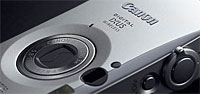 We speak from some experience here too, after foolishly being seduced by Sony's innovative – but frankly pointless – Bluetooth feature on its 20002 DSC FX77 camera.
After an eternity of fiddling about with Bluetooth settings only to see images crawling onto our PCs, the novelty soon wore off and the thing was dumped straight back on to its USB cradle.
Mind you, it was fun taking photos from a PC in the next room until the Bluetooth connection went tits up.
Back to the SD430, we can also add that it comes with an all-important cool blue light, offers manual and auto shooting modes with stitch assist, and weighs in at 130 g (4.6 oz) in a pocketable 99 x 54 x 22 mm (3.9 x 2.1 x 0.9 in) case.
Pricing to be announced.