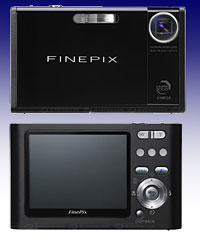 Fujifilm has announced the Fujifilm FinePix Z2 Zoom, a new member of the superslim Z-series, offering 5.1 megapixel resolution and sensitivity up to ISO 1600.
Declared a "sensitive supermodel that's naturally slim" by some cheesy PR hack, the FinePix Z ramps up the feature set and improves on its well regarded predecessor, the Z1.
The camera is housed in an attractive wraparound, glossy shell-design body, measuring 90 x 55 x 19 mm (3.5 x 2.1 x 0.7 in) and weighing just 130 g (4.6 oz).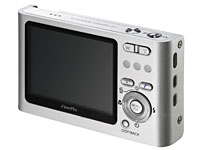 The FinePix Z2 Zoom comes with the same reinforced glass 2.5″ screen, but now boasts a higher resolution of 232,000 pixels, and the camera offers a wider aperture range up to F8.0, improved metering (256-zone, up from 64-zone) and a longer maximum shutter speed of four seconds.
Like several other recently released cameras, Fujifilm have improved low light performance by ramping sensitivity up to ISO 1600, letting users indulge in moody, dimly lit scenes.
Fujifilm claim that their Real Photo Processor will help users create more natural-looking images, without the harsh effects often caused by camera flash or the blurring caused by camera shake or subject movement.
Getting carried away with their self-professed 'chic' claims, Fujifilm suggests that the camera's continuous shooting feature (max 2.2 fps, up to 3 frames) might be ideal for capturing "catwalk catastrophes".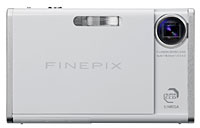 In the real world, the camera's 3x optical zoom (36 – 108 mm, 35 mm equiv) means that anyone looking to snap a Kate Moss exclusive will have to be pretty close to the catwalk, with the camera's slow f3.5 – 4.2 lens meaning that higher (and noisier) ISOs would be needed to capture any drug-fuelled stumblings.
The flash isn't likely to help much either as it can only muster 0.6m – 2.3m coverage at the telephoto end – about par for the ultra compact market.
Naturally, there's a movie function onboard, capable of capturing 30 frames per second VGA video with sound.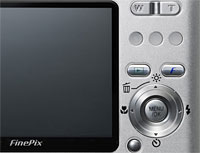 Adrian Clarke, Fujifilm's Director of Photo Products, was on hand to talk about irony: "It's ironic that most ultra-slim cameras struggle where they are most frequently used – in low-light social situations, such as parties. With four times the sensitivity, combined with iconic design, the FinePix Z2 Zoom is a camera that truly qualifies as an evening companion."
The FinePix Z2 Zoom will be available from UK retailers in white or black finishes from November 2005, with pricing to be announced closer to the date.