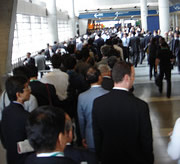 Listen to Howard Stringer's speech
Those coming all the way to Tokyo from around Europe and the US, in a hope that Howard Stringer would continue his already well documented shake-up of Sony by making big announcements at his Keynote at the first day of Ceatec would have been disappointed.
If you're interested in the development of Sony products and where Sony will be going in the future, you were in luck.
The queues to get in for press and punters were huge, with one wag wondering if the hall was full of Sony people trying to find out if they still had a job.
The message from Stringer was strong. It needed to be. Sony is undergoing a massive transformation.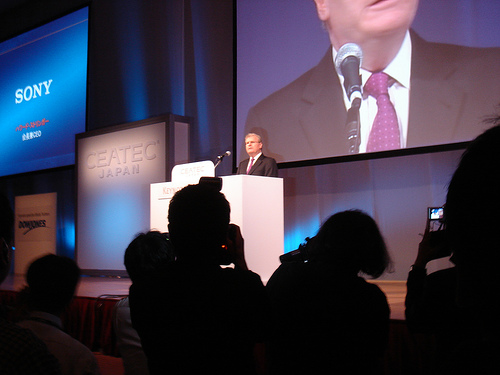 Politically, presenting in Tokyo was an important act – delivering this radical message in the home town of Sony's head office.
The summary? The three pillars – Restructure, Sharpen, the use of software to "use Sony's marriage of content and technology to create unique competitive advantages and compelling user experiences."
While admitting that they have "fallen short in matching innovation with the expanding appetites of our customers," he told those gathered that gone are the competitive businesses units (silos in Sony lingo) that many claim are partially responsible for Sony wobble. The future will be a united Sony, with a centralised management, looking across the business creation tools; content; phones; games.
Of all the tempting nuggets that Stringer, we're going to focus on the PSP.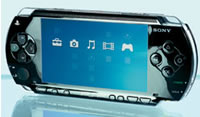 In the nine months that its been on the market, it's sold 6m units worldwide, making it, they claim, the most successful portable games machine to date.
That's all fine and dandy, but how will they change the way PSP users consume other media?
Well, here's the exciting part, he promised that owners will "soon be able to deploy the device's built-in WiFi, to watch video from home entertainment terminals, anytime, anywhere in the world."
Now if that doesn't excite, he also said "to expect to see" a PSP with a high capacity MemoryStick which can be synchronised a Digital Video Recorder (DVR).
The tempting morsels cry out for more details, ones that weren't provided – which I guess is the point saying them at a big event like this.
Quite what Sony's definition of a 'home entertainment terminal' is, wasn't explained, nor was if it will require the purchase of another piece of kit.
It's also unclear if the PSP that we should 'expect to see' will be a new model of the machine, or a new MemoryStick with increased capacity.
We'd imagine that PS owners will be prepared to put their hand in their pockets to get any of these and will be tempted by being able to download their choice of TV shows to PSP overnight ready for the trip to work does.
If you want to check out further details, feel free to listen to Howard Stringer's speech (30Mb) yourself.