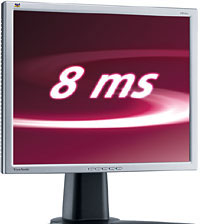 The trouble with CRT monitors is that they often go fuzzy at such a leisurely rate that you don't notice the deterioration, but find yourself slowly sitting closer and closer to the screen.
It was only when we found ourselves virtually snogging the monolithic 21″ Mitsubishi CRT monitor in our office that we decided it might be time for a change.
After much poking and prodding and review-searching, we decided to replace the 21″ beast with two Viewsonic VP191 LCD monitors, each with a native 1,280 x 1,024 resoluton.
They're by no means the cheapest 19″ flat screen monitors around, but the slimline, 'thinedge' profile and image quality were all persuasive factors.
But what really got our wallet creaking open was the Viewsonic's natty construction which offered enough manoeuvrability to rival a Russian gymnast on a bed of oil.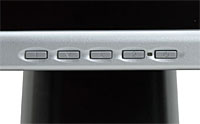 Height, pivot, tilt and swivel could all be adjusted effortlessly, so it's easy to shimmy monitors into the exact desired position – particularly useful if you're arranging a multi-screen set up.
Anyone working on long text documents will soon be spinning the monitor around into portrait mode with a joyful skip in their step because it makes a real difference to productivity – no more scrolling all over the screen!
Viewsonic uses Pivot Pro software to rotate the display from 0 to 270 degrees, and it's possible to mix and match the orientation in multi monitor set ups. It worked fine every time with no hitches during our testing.
Swivelling the monitor around, there's an internal power supply with three interfaces (DVI-D, D-Sub and D-Sub) available, with a neat set of cable guides helping to keep things tidy.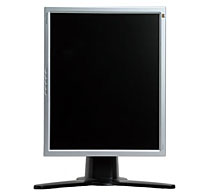 The front panel sports five small buttons – four for monitor adjustments and the fifth for turning the monitor on/off.
The onscreen adjustment menu is clear and logical, offering control over contrast and brightness, menu settings, input signal source and colour calibration, with an auto-adjustment feature and manual picture adjustment for non-digital inputs.
We liked the 'information' option which displayed details about the monitor's resolution, horizontal and vertical frequency, pixel clock, model number and – best of all – serial number, saving users having to rummage around to find the thing.
Image quality
Of course, all the swivelling gizmos and pivoting wotsits don't mean a thing if the display's a duff one, but the Viewsonic really excelled in this department.
Using a new 8 ms MVA panel made by AU Optronics, the monitor impressed us with rich colours, bright, crisp whites, deep blacks and a good all-round performance for both graphics and games.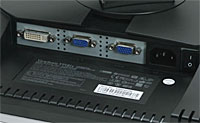 The 800:1 contrast ratio and 250 cd/m² brightness on offer served up vibrant and colourful images – in fact, we had to turn the monitor down from its default 100% brightness setting for fear of being permanently dazzled.
Viewing angles were also impressive, with horizontal viewing excellent up to 100° (50° from the centre of the image) and very good up to 160°.
We tested the monitors using a relatively elderly Gigabyte Radeon 9200 card with both digital and analogue outputs and found no real difference in quality between outputs.
Conclusion
We were mightily impressed with the Viewsonic VP191s.
Image quality was solid throughout, text was crystal clear and the 8ms response rate offered excellent coverage of fast moving images.
Add to that the slim-line bezel, good looks, sturdy stand and fantastic pivoting screen function and you have a monitor that stands out as one of the very best in its class.
We feel that the monitor provides an oustanding portfolio of specifications and features on offer for the money. Highly recommended.
Score: 5/5



We've recently done a deal with PriceGrabber to offer readers of reviews the chance to buy the reviewed item directly.
We will get a small payment each time a link is clicked on.