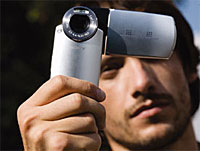 Sony's boffins have announced the addition of a new hybrid camcorder/digital still camera to their Cyber-shot range.
Sporting a 1/2.5-inch Super HAD CCD sensor with a resolution of 5.1 Megapixels for stills, the Cyber-shot M2 is designed to flip between camera and camcorder modes, letting users switch from Kertesz to Kubrick at the push of a button.
The camera/digicam wotsit comes with a Carl Zeiss Vario-Tessar folded-path 3x optical zoom lens, offering a focal range of 38-114mm and aperture range of F3.5-4.4, viewable through a large 123K pixel 2.5-inch LCD viewfinder.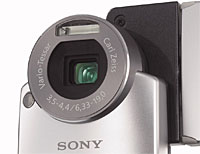 Designed to be used with one hand, the M2 features a slightly tilted lens axis which allows a more natural wrist position according to Sony.
The camera can be switched between the modes with the press of a button, with the camera automatically switching to photo mode when you flip up the LCD screen.
The Cyber-shot M2 uses Sony's proprietary Memory Stick Duo and Memory Stick PRO Duo memory card formats, with the battery life claimed at a not-entirely-impressive 50 minutes of MPEG4 video recording (no wonder Sony encourage people to choose the '5 Sec Rec' mode for a "fresh style of snappy movie making.")
A more intriguing feature is Sony's Hybrid REC mode which is supposed to give you your pictures "in context".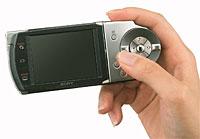 This automatically records five seconds of video before the still picture is taken, adding three more seconds of movie footage afterwards.
In this mode the movies are stored as 15 fps at QVGA size (320×240).
For carrying around and showing off your cinematic and photographic triumphs, Sony has added two functions called Pocket Album and Slide Show plus Movie.
The Pocket Album feature keeps low resolution (VGA) copies of all stills taken with the camera in a separate, internal memory, allowing users to bore their friends senseless with long tours (up to 1,100 pics) of in-camera holiday snaps.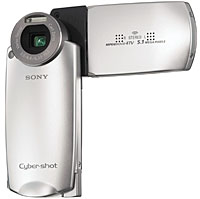 Those really wishing to inflict pain on their friends could insist on using the Slide Slow plus Movie function.
This serves up a mixed slideshow of stills and five-second movies in a variety of themes (e.g 'Active', 'Simple', 'Stylish' and 'Nostalgic'), accompanied by a choice of four pre-set background music melodies. Eeek!
Once the internal memory is full, the Pocket Album software will automatically delete the oldest images to make space for new ones (individual images can be protected from deletion, however.)
The camera also includes a Sony-first stereo microphone, support for PictBridge and USB 2.0 connectivity.
The Cyber-shot M2 will be available throughout Europe during November 2005. No price has been announced yet.