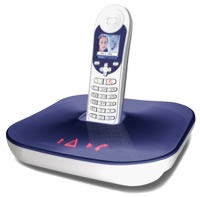 The acceptance of VoIP into the mainstream moved up a gear today with the release of a DECT VoIP handset, the plain-badly-named EV5203-C, from Thomson, the _huge_ French all-encompassing media company. The product is the first fruit from Thomson's purchase of Inventel, earlier this year.
An area pioneered by Siemens with their M34 and companies such as DU@LPhone, the difference with this is there is no need to be running Skype or similar VoIP software on your PC, with the clear advantage that the PC doesn't have to be on, or even in existence.
Where Thomson are following the same route as Siemens with their method of sales, we were told that initially the handsets will be sold direct to service providers, not the public.
This baby is spec'd – colour screen (natch); it can handle two VoIP calls; and has two ethernet ports that can be plugged directly into DSL or cable modem or router. Up to five can be connected, each with a separate VoIP number.
The management of the handset, and the updating of its software can be handled remotely, by the service provider.
A PSTN connection is also provided on the base, neatly tackling the problem of VoIP services not providing 411/911 emergency service.
The fact it runs on Linux give the operators (who this product is aimed at) the ability to customise the handset to their requirements offering 'network phonebook synchronisation, mail notification, Web browsing, SMS and MMS over IP and single remote management interface for home entertainment.'
As to whether customers will be able to 'officially' make changes to their own handset was an unanswered question. As it's being supplied via telcos, I think we know the answer, don't we?
Thomson are busy at the IFA show – this is one of the over 50 products that they are launching.
As it's available via service providers, there are no details on pricing as yet, but should hit the worldwide market in November 2005.