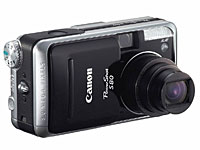 Canon has announced its new PowerShot S80 consumer camera, an eight megapixel compact camera with a wide range of auto and manual controls.
Smaller and lighter than the PowerShot S70 it replaces, the S80 sports a much larger (2.5″) wide viewing angle LCD monitor, a wide-angle 28-100 mm f/2.8-5.3 (3.6x) optical zoom lens which uses the same DIGIC II processor found in Canon's professional series digital SLRs
The prosumer-targeted camera offers an EOS-style Multi Control Dial for quickly setting menu and shooting functions and nippily scrolling through images during playback.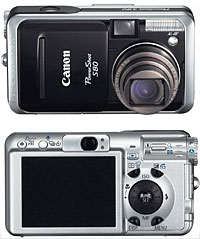 The camera packs in some advanced features including real-time histogram display, FlexiZone AF/AE with a freely movable focus point and manual focus override with 21 shooting modes taking care of most lighting conditions.
The new large 2.5″ LCD is adjustable to one of 15 brightness levels and features a "Quick-bright" function for shooting in sunny conditions (sadly, a feature of little benefit to most UK users).
There's also a handy selectable grid line display to help with composition and keeping wobbly horizons level.
As is the norm for a compact camera, the optical viewfinder can best be described as 'basic' with all the shooting image being presented in the LCD screen.
The little fella (104 x 57 x 39 mm) can also record quality video clips up to 1 GB in size, from 320 x 240 at 30/15 fps right up to 1024 x 768 at 15 fps.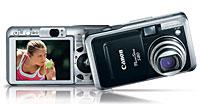 Surprisingly, RAW capture has been left off the spec list, although there's USB 2.0 compatibility to help speedily transfer images to a PC speedily.
"The PowerShot S80 provides those serious about photography with uncompromising specifications," gushed Mogens Jensen, Head of Canon Consumer Imaging Europe. "Its futuristic and compact design symbolises Canon's commitment to pushing the limits of what is possible in this important segment."
The camera's 8.0 Megapixel sensor produces images for detailed A3+ size prints, with auto focus speeds claimed to 20% faster.
The S80 is expected to retail for around $549 (£322, €475) when it hits the stores in October 2005.