Thanks to Mathew for corrections to this piece
Google has slapped down a big leathery gauntlet to the communications industry with the beta launch of its instant messaging service with voice-over-IP capabilities today.
Currently in beta, the Google Talk program will link its instant-messaging service to its e-mail service, Gmail, letting users contact each other over email, IM or a VoIP call.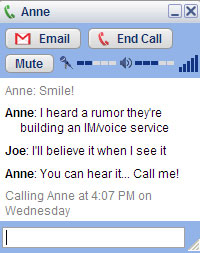 The program, Google Talk, is based on the open source Jabber protocol and competes directly with the three major providers of instant messaging – AOL, Microsoft and Yahoo.
With the company trumpeting the service's integration with GMail, Google Talk will use the same log-in information as their email account, with users able to access their inbox from within the Google Talk interface and send e-mails from there too.
Interestingly Google appears to refer to the accounts as a Google User Account – an interesting shift, pointing to the continued rise of additional Google services.
Users will be able to chat via IM and then talk to contacts on Google Talk by clicking on a "call" button in an open chat window or by clicking on the phone icon next to names on the contact list.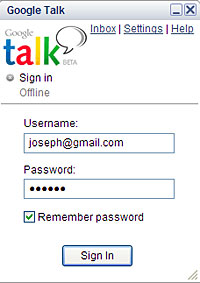 The software will let users have multiple voice sessions open at the same time, but only one can be active at any given time.
Gmail contacts will be loaded automatically into the Google Talk interface, letting users exchange instant messages with those who have downloaded the IM software.
Jabber is an open standard messaging protocol called eXtensible Message and Presence Protocol, or XMPP, and Google have stated that the company hoped to use the standard to interconnect the messaging industry. Many feel XMPP have advantages over SIP (Session Initiation Protocol, commonly used for VoIP) for voice communications.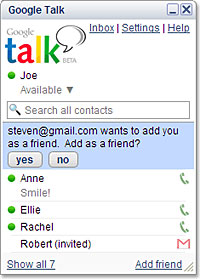 Currently, the three major messaging services are closed shops that generally don't permit users to send messages to and from competing services – a source of continuing frustration for many IM users.
Jabber have been reported as preparing to interconnect with AOL, whose AOL Instant Messenger system is the largest provider of messaging.
"We are going to start working to federate all the other networks," said Georges Harik, a Google director of product management who is responsible for Google Talk and several other services.
According to figures from comScore Media Metrix, more than 80 million Americans chattered on instant-messaging services in July, with 30.9 million using AIM, 23.3 million chatting on MSN Messenger and 23.2 million connecting via Yahoo Insider.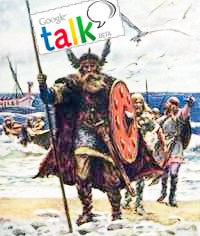 Peter Saint-Andre, executive director of the Jabber Software Foundation, estimated that 13.5 million use the Jabber standard, based on figures from Osterman Research.
The company is yet to announce how the new service may earn its keep, but Google has stated that it intends to look for revenue opportunities in the future.
Google Talk reveals the company's continuing ambitions provide to extend beyond Web searching, with some analysts predicting that Google will soon be taking on voice-over-Internet phone services like Vonage and Skype as well as the communication industry big boys.
How the industry reacts to this onslaught should be entertaining.