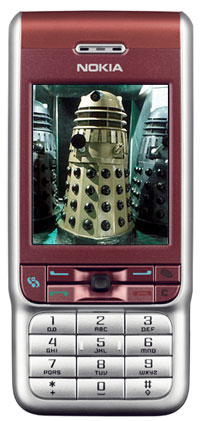 The BBC has announced that it will be offering classic episodes of "Doctor Who" and "Red Dwarf" on digital video chips for viewing on mobile phones.
The company's commercial arm, BBC Worldwide, has teamed up with mobile phone content firm ROK Player to flog special multimedia memory cards that let users watch feature-length films and programmes on their mobiles.
The films are pre-recorded on Sim card-sized DVC (digital video chips) chips which slot into the multi-media memory card of compatible mobile phones.
With no content to download via mobile networks, films will automatically load once the card is inserted – and with no requirement for network coverage, commuters will be able to watch Dalek battles while stuck in a train tunnel.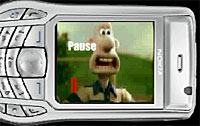 Films can be fast forwarded, rewound and paused, just like a conventional movie player.
The cards, capable of storing up to two hours of entertainment, will be sold for £17 (US$30, €25), twice the price of a downloaded iTunes album but roughly the same price as the latest DVD releases.
ROK Player said they have invested £10 million (US$18m, €14.7m) creating the software which they claim will allow viewers to see high-quality pictures despite the teensy weensy mobile screen size.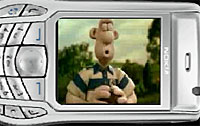 The first scheduled release is The Five Doctors, a 90-minute Dr Who special originally shown in 1983, followed by three episodes of cult sci-fi hit, Red Dwarf.
More programmes are expected to follow from the BBC archive, with the chips initially being sold through Nokia stores, ROK Player's website and Choices video outlets.
ROK Player also offers music videos and films such as "Wallace and Gromit" and "The Shawshank Redemption."