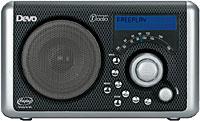 The world's first wind-up FM and DAB digital radio, the Freeplay Devo, will be on sale in the UK soon.
Built on the well-regarded Freeplay power platform, the Devo wind-up wotsit offers DAB and FM waveband powered by an internal battery, AC via mains adapter or – when the power fades – some manful wrist action.
Sporting an attractive rugged black and silver finish with a blue LCD screen, the radio offers 5 DAB station presets with old-school rotary analogue tuning for FM.
The unit measures 122h x 114d x 205w mm, with the fascia being dominated by a large loudspeaker.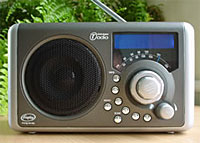 There's a set of handy stereo RCA (phono) sockets onboard, letting users plug the radio into their home entertainment system, with a built in headphone socket for late night listening.
The Devo comes with a built in rechargeable battery with a claimed life of 6 hours DAB listening time (or 36 hours FM) per full charge.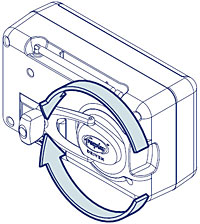 When the batteries run out, a 60-second burst of action on the wind-up lever should reward the user with 3-5 minutes DAB reception or one hour of FM pleasure at normal volume
The Freeplay Devo is being launched in October 2005 with a retail price of £100 (~$180, ~€146).