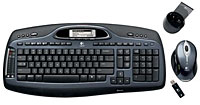 It could be argued that a keyboard's beauty lies in its simple elegance. No flashing lights, no blinking screens, no whirring eye candy, just several rows of dumb keys obediently awaiting your input.
Simple. Classic.
Boring.
Clear your desks for Logitech's new Cordless Desktop MX 5000 Laser keyboard – a futuristic, gadget-tastic affair that will makes your current keyboard look more at home in a Stone Age cave.
The Bluetooth keyboard features a built-in LCD which can display a ton of useful (and not-so-useful) information including e-mail and instant message notifications, favourite playlists and Internet radio stations.
Ever found yourself typing an email to your Gran and wondering what the ambient temperature of the room was? No problem – the MX 5000's got a built in room temperature readout.
For MP3 junkies, there's one-touch access to music playlists from popular player like iTunes, Windows Media Player and Musicmatch, with keyboard bashers also able to access and launch categories and themes of music through Musicmatch's Internet radio stations.
The keyboard LCD screen provides instant notification of new e-mail and instant messages and there's also a humble calculator included, but this one's got a clever twist, with calculation results automatically being saved to the computer's clipboard. Neat.
Naturally, if you want indicators, the MX 5000's got 'em, with the LCD screen keeping users informed about the vital status of the caps lock and F lock keys, volume levels and mute.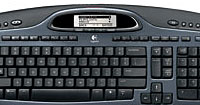 The MX5000 reflects the trend which sees dumb-as-a-rock keyboards slowly turning into smartypants devices, capable of both sending and receiving info from the computer and, in this case, even acting as a Bluetooth 2.0 Enhanced Data Rate (EDR) wireless hub.
"Logitech introduced the world's first mouse-and-keyboard combination in 1998 with the goal of removing cord clutter from the desk," gushed Denis Pavillard, Logitech vice president of product marketing for desktops.
"We succeeded in delivering on that vision, and we are now addressing a different kind of clutter – cleaning up the mess of notifications and information that are displayed on the computer monitor."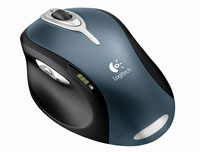 "The Logitech Cordless Desktop MX 5000 Laser desktop pushes that information to a peripheral screen so that people can choose when to glance at their notifications and status information, and can therefore clear their monitors — and their minds," he added.
The Cordless Desktop MX 5000 package comes with Logitech's MX1000 Cordless Laser Mouse, a laser powered chappie in a matching blue-slate/black finish.
Of course, the more functionality you squeeze into a keyboard, the greater the power needs, and Logitech have included a smart power-management solution which seems to comprise of a decidedly low tech on/off switch on the keyboard and an integrated battery indicator light.
We could have used one of them for our Logitech MX700 mouse which promptly ran out of juice half way through writing this review and is now pointlessly blinking away in its recharging dock.
The Logitech Cordless Desktop MX 5000 Laser will be available in October in the U.S. and Europe with a suggested retail price of £119.99 (€176) in Europe ($149.99 US).