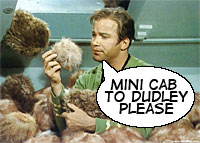 Viacom have announced that they will be launching a special super-spoddy edition Star Trek Communicator Phone, in association with Sona Mobile.
Cool as a heatwave, only twice as hot, the special phone will serve up an intergalactic feast of Star Trek related guff so that Trekkers will feel that the Enterprise is never far away.
The phone will let Sci-Fi nutjobs enjoy a multi-player online Star Trek game or stream video clips while simultaneously text messaging a friend or accessing information on the Internet.
Naturally, Borg buffs, Ferengi fans, Cardassian connoisseurs and Delta Quadrant devotees will be able gorge themselves on a planet full of downloadable Star Trek ring tones, wallpapers as well as access news, information, and other fan activities.
As if all these Spock-tastic goodies weren't enough, The Star Trek Communicator Phone will also come equipped with a custom Star Trek faceplate and other themed features.
Naturally, there are more tie-ins than a Houdini convention at work here as Viacom own Paramount Pictures who own the Star Trek brand.
Sandi Isaacs, VP of Interactive at Viacom Consumer Products set his phaser to 'gush' and enthused, "There is a tremendous opportunity to tap into Star Trek fans around the world and offer them a device to interact, connect and download Star Trek entertainment. This not only promotes the Star Trek spirit but creates a new paradigm for the wireless community."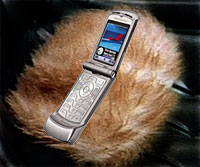 We couldn't find a picture of the actual phone anywhere, although one poster on a Star Trek site claimed it was a re-branded Motorola V3 phone, while another frothed enthusiastically about a "multiplayer, persistent game universe, that uses location based / GPS information to alert you when an 'enemy player' is within range so you can do battle!"
Whatever it looks like, I'd imagine Trekkers would be most disappointed if it doesn't make that funny noise when you flip it open.
A Star Trek themed phone isn't the kind of thing that warms our warp drives, but if someone designed a phone based on Tribbles, we'd say, "bring it on!"
The phone will be available beginning 30, September, 2005.