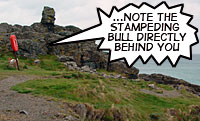 The BBC has teamed up with Hewlett-Packard Labs and Gavitec to provide a digital collaboration based around the BBC TWO series, Coast.
The trial will allow roving ramblers to reach for their phone and call up site-specific extra audio and WAP content from the programme using "visual triggers" and their mobiles phones.
The system employs data codes – which look much the same as your average barcode on a tin of beans – and hikers with Series 60 camera phones will be able to read these codes and connect directly to BBC content.
Although rarely seen on UK streets, data code technology is big in Japan, where it's used for linking to personal information from business cards and providing extra info from posters and magazine advertisements.
The BBC trial will involve placing the data codes on plaques at 100 locations around the UK. Users will need to download the free HP and Gavitec-developed software from bbc.co.uk to access the service.
Less well-equipped trampling travellers can access a rich WAP site by texting COAST to 81010, while harassed parents may be able to earn some peace by letting their kids take part in the SMS text quiz provided.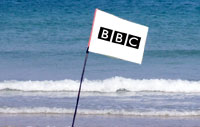 For phone-allergic types, the BBC will also make MP3 audio from the project available as a free download from bbc.co.uk.
The content aims to add local information and colour, with simple narrated pieces about the area, short dramatisations and contributions from local people ("Gerrrrofff my land, townie!").
The audio pieces are short'n' sweet (less than two minutes long) so users won't be hit with a tractor-sized phone bill and are designed to stimulate an interest in finding out more about each location.
Mark Jacobs, Executive Producer of Coast Mobile scrubbed down his wellies and enthused: "We're very excited about this latest trial from the BBC. Not only do we get a chance to use cutting edge mobile technology, but we also get to give our audience an enriched location based multi-media experience exactly where it makes most sense – where they are standing."
Those taking part in the trial will be invited to participate in a series of questionnaires and interviews on their mobile experience to see if it's a hiking hit or a meandering miss.