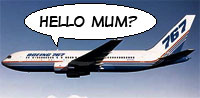 A report in German news magazine Focus states that the German Federal Ministry of Transport, Building and Housing will be lifting its ban on the use of mobile phones on commercial flights.
Despite years of scare stories that a call to Aunt Mabel could send airliners crashing to the earth, the German Aerospace Centre (DLR) has concluded mobile phone signals do not interfere with onboard electronics.
Elsewhere, several European airlines have announced that they are also considering the removal of the in-flight ban on GSM phones, something that many passengers have been demanding for years.
Stateside, the US Federal Communications Commission (FCC) proposed lifting the ban on the use of GPRS, EDGE and 3G phones onboard last year, with the caveat that only the 1800 MHz variants could be used.
Clearly, in-flight mobile phone access would be of tremendous use to travellers – particularly business users – and could provide a welcome boost to revenue for airline operators.
Of course, being allowed to keep your phone switched on doesn't mean it will still work. With full GSM access at 35,000 feet unlikely, passengers will have to rely on in-plane systems provided by airlines – who will, no doubt, charge accordingly.

The technology for providing in-flight GSM coverage is already in place, with Swedish vendor Ericsson recently announcing a newly developed 'GSM on Aircraft' system.
This uses a version of the RBS 2708, which is based around the RBS 2000 family, the world's most popular radio base stations.
The company claims that its functionality matches terrestrial systems.
Airbus has announced that it intends to equip its short and medium-range aircraft in the A320 series with this mobile phone technology in the near future.
Hello? I'M ON THE PLANE!!!!
Federal Ministry of Transport, Building and Housing