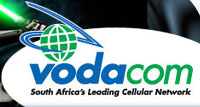 Around a hundred rural African farmers around Makuleke are testing cell phone technology that gives them access to national markets via the Internet, allowing them to compete with the big boys and boost profits by at least 30 percent.
Previously, farmers would travel huge distances to the market in Johannesburg in the hope of selling their goods, often losing half their harvest along the way, but a new virtual trading facility installed on mobile phones lets them sell their produce direct from their small farms.
Farmers can check prices on the phone and choose to sell when prices are high or raise the selling price if demand is high – and by dealing directly with sellers, farmer can raise profits by cutting out the middle man.
"Mainstream farmers have access to market information so they can negotiate better prices. This cell phone enables poor rural farmers to get that same information," said Mthobi Tyamzashe, head of communications at South African cell phone operator Vodacom, project sponsors.
It's an example of how technology can bring real benefits to the world's poorest continent, and cell phone use has already rocketed 100 percent in Africa since 2000.

It's believed that wireless technology is the best way to bring the Internet to the poor, as Africa's sparsely-populated and often inhospitable landscapes make a landline infrastructure commercially unviable.
Senegalese company Manobi has already signed up 40,000 customers to their trading platform for farmers and fishermen, allowing customers to access information on a Web-based trading platform via Internet-enabled phones. Users can also request prices and make trades via SMS, or text message.
"It's a trading platform and a business space," said Manobi Chief Executive Daniel Annerose. "Small Senegalese farmers even linked up with the French army (on the platform) last year and agreed to supply one of their ships when it docked in Dakar."
Manobi plans to expand the project into South Africa, followed by the rest of the continent and the Middle East, in partnership with French cell phone manufacturer Alcatel and Vodacom.
Of course, Vodacom and Alcatel aren't investing all this cash because – like a Miss World contestant – they want to make the world a better place.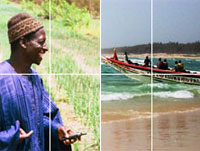 There's a hard business ethic at work here, with the companies keen to expand the cell phone market into rural areas and grab new customers before the competition steps in.
"The idea is that if people start off with your product they will stay with it once they become more profitable clients," said Vodacom's Tyamzashe.
The company dished out 360 starter packs and airtime vouchers worth 300 rand each, while Alcatel has handed out 200 handsets, although there are questions as to the long term viability of the scheme – farmers often living on less than a dollar a day may not be able to afford the luxury or surfing the Web on their phones once free airtime runs out.
"Individual projects like this may not be sustainable, but in a wider context it is an important part of getting telecoms out to the rural areas," said telecommunications expert Arthur Goldstuck, from research group World Wide Worx.
"It is a case of throwing all kinds of things at the wall and hoping that some of it works."