Cable company Telewest Broadband is making Teleport, its TV-on-demand service, available to over 26,000 customers in Cheltenham and Gloucester today.
As we reported last month, this forms the first stage of national roll-out which Telewest claims will "revolutionise" digital TV for more than a million customers by the beginning of next year.
The cable company's Teleport service gives customers instant, 24 hour access to a vast library films and TV entertainment with users able to pause, fast forward and rewind the content, just like a DVD.
Sofa-loafing customers can access the service via the existing set-top box and remote control, with a simple on-screen menu serving up viewing menus.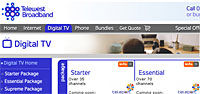 Teleport Movies offers around 200 current and library films from FilmFlex, with rental charges costing between £2.00 (~$3.59, ~€3) and £3.50 (~$6.28, ~€5.20) for a 24-hour rental period.
Teleport Replay lets TV addicts users catch up on popular programmes from the previous week, and will include riveting programmes such as Eastenders and Casualty (be still my beating heart!), with Teleport Life offering specialist interest programmes.
Soon to be launched is Teleport TV, which will screen classic BBC series such as Morse and Waking the Dead and music videos on a subscription basis.
Freeloaders will be pleased to learn that Telewest is promising a "substantial amount" of free content, including soaps, comedy and documentaries, along with the usual pay-per-view and subscription options.
Subscribers to the company's premier digital TV package will get most of the new content bundled in for free, including access to the entire TV package.

Eric Tveter, president and CEO of Telewest, mused: "Teleport has arrived and it's genuinely going to change the way people watch TV. The schedule normally dictates viewing, but our customers will have the choice and convenience of a service they can tailor – it's TV on their terms."
Telewest Broadband has already been scooping up secured content from a wide range of providers including Filmflex, the BBC, Flextech, Discovery Networks Europe, National Geographic Channel Europe, Nickelodeon, Jetix (ex-Fox Kids) and Playboy TV.
Such is Telewest's determination to snaffle a chunk of the burgeoning Video On Demand market, the company is whipping out its wallet like Ron Atkinson on pay day, investing around £20 million in the development of advanced TV services in 2005.