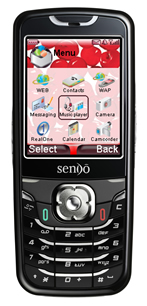 It's not everyday a new mobile handset company comes along, so it was sad news to hear that Sendo, a relatively new entrant, had gone into administration. Motorola weren't slow to see a good buy, and purchased it by the afternoon. Guy Kewney takes us through the reasons.
Sendo is dead; there is now nothing left of it, except a new set of features for Motorola, which  has formally  announced its purchase of Sendo from the administrator.
Effectively, Sendo went bust because its gamble failed; it should have been the world's leading provider of smartphones, but had to quit the business when it fell out with Microsoft, and start all over with Nokia/Symbian.
The company was making money, but spending more. It was, say competitors, winning business by two ploys. The first was its breakthrough ploy, and that's the one which Motorola has bought it for: the ability to produce a phone that does everything the operator wants.
"The difference between Motorola and Sendo," said one source today, "was that if Vodafone said: "We need these features for Vodafone Live!" then Motorola would say: "Let's get working, and we'll have something for you in nine months!" while Sendo would say "OK, we'll do it now."
Another source said: "The 'entire intellectual property portfolio – including 50 existing and 40 pending patents' which Motorola referred to in its release is half of the reason. The software they want is the software which allowed Sendo to configure a phone for people like Orange for Orangeworld – but almost more important, is getting the people at Sendo who knew how to configure that software."
Motorola already has a Symbian licence, and the deal doesn't give them Sendo's Series 60 licence. Some sources insist that nonetheless, the move shows a significant move away from Windows Mobile, following the cancellation of its long-awaited WM Bluetooth phone recently – but that is almost certainly wishful partisan thinking, since Motorola has both Symbian and WM phones on its road-map.

Partisan thinking is also behind suggestions that Sendo's collapse owes nothing to Microsoft's actions in the split between the two corporations.
The most recent disaster, admittedly, was  Ericsson's doing, not Microsoft's: but the crunch was inevitable, after Microsoft's attempt to pull the plug on Sendo (analysis shows how easily this could have been deliberate).
At the time Microsoft and Sendo parted company, Sendo was the sole provider of the only Microsoft smartphone in the world; it was literally years ahead of all rivals, except perhaps for Nokia with its Communicator. Because of the collapse of the Microsoft-Sendo partnership, however, Sendo found itself as far behind the mass market as it had been in front.
Smartphones were crucial to founder Hugh Brogan's strategy. They are deliciously high margin products, and also high profile. Without the smartphone, the only way Sendo could win contracts was:
by offering to customise them for "added value" services like Vodafone Live!
by cutting the margins below the bone.
The hope was that the company's financiers would stand by it until it reached the point where it could start charging market rates, and making profits.
"Actually, they might have managed that," said one source, who works for a company that contracts to Motorola, "but for the fact that they built some very poor phones. Poor build quality meant they were struggling to win repeat contracts from several networks."