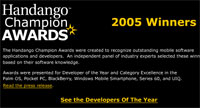 Mobile download site Handango has announced the winners of their Champion Awards at the fifth annual Handango Partner Summit.
Judged by a panel of industry boffins, experts and media, the Handango Champion Awards were dished out for applications written for BlackBerry, Palm OS, UIQ, Series 60 and Windows Mobile-based Pocket PC and Smartphone platforms.
The categories were Best Application for Work, Best Application for Play, Best Application for Life, Best New Application and Best Industry Application.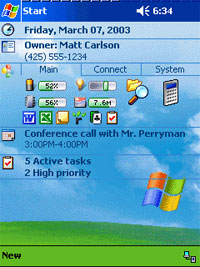 For the Palm platform, the winners included Snapper Mail Deluxe in the 'work application' category, with Pocket Tunes Deluxe scooping up the 'Play' category.
SplashData's SplashBlog – a nifty application that lets mobile users easily create and update a mobile photo blog – grabbed the coveted "Best New Application" award.
Winners in the Windows Mobile Pocket PC included high-powered organiser software Pocket Informant 2005 ("Work") and the ultra-configurable Today plug-in, SPB Pocket Plus. Expect reviews on these products in the near future.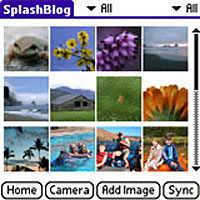 The comprehensive MobiLearn Talking Phrasebook, a talking multi-language phrasebook for the Pocket PC with "pure native voices", snagged the "Best Industry Application" award.
Other winners included Mobimate's WorldMate and Mail2Fax on the BlackBerry platform, Papyrus and NewsBreak on the Windows Mobile and Quick Office Premiere and IM+ Instant Messenger on the Series 60 platform.
In the Developers of the Year category, hearty back-slapping plaudits went out to Develope One (Pocket PC), Chapura (Palm), Ilium Software (Windows Smartphone), Terratial Software (BlackBerry), Mobile Digital Media (Series 60) and Epocware (Series 60).