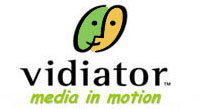 Vidiator Technology has declared a "world first" for their VeeStream mobile music video service, launched in Scandinavia.
There's currently more than 50 live broadcast channels on offer, letting mobile subscribers "use their phones like i-Pods", with an unlimited hard-drive housed on the mobile network.
The service enables subscribers to watch and listen to music through mobile streaming on their video-enabled mobile phones. After a free trial from May-Aug 2005, mobile subscribers can shell out a monthly fee under US $7.00 (~€6.00~£4.00) and gorge themselves on unlimited programming.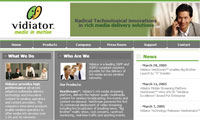 After launching with an audio service in May 2005, video is scheduled to follow in June with radio coming in July.
"Vidiator is one of the key partners who enable us to be the innovator in the Scandinavian Market," insisted Shlomo Liran, CEO of 3 Scandinavia. "We are a mobile video company, not just a mobile voice company. Vidiator streaming technology makes it possible for us to deliver new services and to stay ahead of our competitors".
The service uses VeeStream, a rich media streaming platform, which delivers high quality audio and video streaming content on-demand for 2.5G and 3G network operators, regardless of format player, handset or network.
The clever boffins at VeeStream claim to have solved the problem of network bandwidth availability by using 'dynamic bandwidth adaptation' (DBA) a patent-pending, open-standards based technology.
The real-time DBA does its stuff by optimising throughput over scarce radio frequencies, while creating a higher ratio of delivered streams than competing technologies.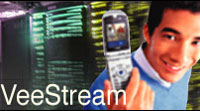 With the 3GPP/3GPP2 compliant VeeStream being player-agnostic, mobile streaming can be enabled to a broader range of networks and devices, which should bring costs down for wireless operators.
"Vidiator is a solutions provider, not purely a software company," said Connie Wong, Vidiator's CEO.
"VeeStream is the most proven carrier-grade wireless streaming technology in the market due to its robustness, scalability and modularity. Carriers like 3 Scandinavia only have to 'plug and play' off their existing Vidiator streaming platform running other applications to add 50 audio and video channels, including live broadcast services like Big Brother.
This scalability enables quick time-to-market for new content, lowers system configuration and operation costs and boosts revenues".
Personally, I'd rather sit bare bottomed on a bag of angry live crabs than try to watch Big Brother on a squinty little mobile phone screen, but there's no denying that such pap can help drive network take up and revenues for 3 network providers.