It's not yet confirmed, but it appears that Google is preparing to challenge PayPal with its own online electronic payment system, rumoured to be called 'Google Wallet'.
The Wall Street Journal website reported Google's plans late Friday, citing sources "familiar" with the company's plans. No details about Google's strategy were revealed.
Analysts have commented that a rival Google payment system would prove a mighty bummer to PayPal's owners, eBay.
In the last quarter, revenue from PayPal amounted to $233.1 million (~£128m, ~€190m), equal to nearly a quarter of eBay's revenue during the period.
Diversifying into the online payments business looks a wise move for Google who are currently dependent on advertising, accounting for almost all of its first-quarter revenue of $1.26 billion (~£690m, ~€1bn).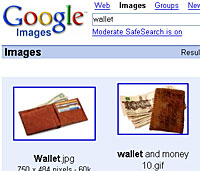 Sellers who run auctions on eBay are major buyers of Google's ads, which appear alongside search results, so it's not surprising to see the company angling in for a slice of the payment action.
Rumours about the new Google service heated up after a panel discussion at a Piper Jaffray Internet conference, where Scot Wingo, chief executive of e-commerce consulting firm Channel Advisor, said he believed the payment service would be launched soon.
According to the story in the Wall Street Journal, Wingo said he based his statement on questions from retailers with which his company works. They'd apparently asked him whether his company would be supporting the "Google Wallet" service, thus sending the cat fleeing from its bag.
A Google spokesman declined to comment on the report.