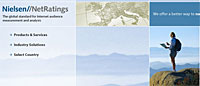 According to a new study from Internet audience statisticians Nielsen//NetRatings, nearly one-fifth of Web users who read newspapers prefer online to offline editions.
The study revealed that 21 percent of those Web users now primarily use online versions of newspapers, while 72 percent still prefer to get their fingers inky with print editions.
The remaining 7 percent went for the best of both worlds and dipped into both online and offline editions evenly.
"It's great news for the online entities," boomed Gerry Davidson, senior media analyst with Nielsen/Net Ratings. "It shows people are going to those sites and they are responding."
The statistics are in line with the underlining trend in the newspaper publishing industry where print circulation has slumped as consumers look to the Internet for news, scouring both newspaper-run sites and news gathering sites like Yahoo and Google.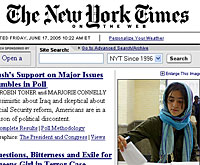 "A significant percentage of newspaper readers have transferred their preference from print to online editions," said Davidson.
"Accordingly, many online editions now feature original content and have developed an online strategy that includes online message boards and editorial blogs, which leverage the medium's strengths of interactivity and immediacy," he added.
Yahoo and Google are both enjoying booming revenues, with cash rolling in from fast-growing Web search ads and a revival in traditional online advertising.
Although newspaper publishing revenue is growing slowly, it still remains stuck in an extended slump.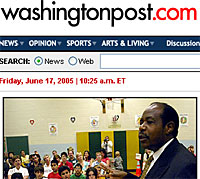 As traffic has increased traffic to news sites, newspaper editors have been allocating more content to their online editions, adding frequent news updates, weather news, original content, message boards and editorial blogs.
The New York Times Website, www.NYTimes.com, is ranked as the most visited site in the US, boasting an audience of 11.3 million in May – up 25 percent from last year, according to Nielsen//NetRatings.
Second in line is USATODAY.com, with an audience up 15 per cent to 9.2 million in May, followed by the washingtonpost.com, attracting an audience of 7.4 million, up 10 percent, year on year.
By comparison, Yahoo News registered a modem-busting online audience of 23.8 million, with Google lagging behind at 7.1 million, according to Nielsen//NetRatings.
The report observes that a greater proportion of blokes accessed newspapers primarily online, making up 53 percent of online readers, with the lay-dees preferring to read newspapers primarily in print.