In a novel move to publicise the benefits of broadband for regional dwellers, the Welsh Assembly Government's Broadband Wales Unit sent mobile Internet gateways scurrying around the valleys and mountains of lovely, lovely Wales.
As part of the multi-million-pound Broadband Wales Programme, three Smart Cars have been wired up so that so they can provide broadband access into Welsh communities on a six month road trip, snappily labelled Get Smart – Get Broadband.
Andrew Davies, Minister for Economic Development and Transport and e-minister donned his Steve McQueen racing gloves and opined: "We believe the very best way to spread the good news about broadband is not by sitting behind our desks but by hitting the streets of Wales."
"That's why we're taking broadband on the road so that many people will be able to chat to our team of experts face-to-face, and get hands-on with broadband."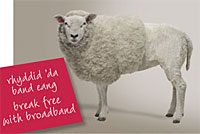 The Get Smart – Get Broadband campaign revs up at Swansea Party in the Park this Sunday, where fans will be able to send messages (known in the vernacular as "shout outs") from the Smart Cars to a giant onstage screen.
Launched in July 2002, the Broadband Wales Programme is tasked with achieving a competitive and sustainable broadband infrastructure across Wales by March 2007.
The Programme aims to increase access – and take up – of affordable broadband by individuals, communities, businesses and public sector organisations.
It's hoped that increased availability and usage of broadband will play a part in "generating "a step-change that will help to underpin the successful transition from an industrial to a modern, knowledge economy.