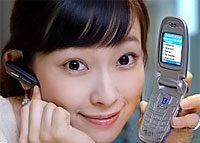 Emerging blinking from their underground laboratories, the overworked boffins at Samsung have announced the creation of the SGH-E620 Bluetooth voice recognition phone which is a Bluetooth mobile with – you guessed it! – voice recognition technology.
With the phone lurking in a bag or pocket and a Bluetooth headset slapped on their noggin, users can make and receive calls by simply barking names into the microphone.
This clever feat of jiggerypokery is achieved via the wonders of Samsung's voice recognition system which claims to be easier to use than existing gadgets which require close proximity to the user.
Earlier voice recognition phones forced users to fiddle about with the handset to switch it over to stand-by mode before a call was placed, but Samsung's system means that the phone can stay out of sight.
Their system allows the phone to be activated by voice and then set to automatically rummage through the mobile's phone book to recognise the name and place a call.
This gives argumentative types the perfect opportunity to reproduce that 'mad person shouting to themselves' look in the street (although the Bluetooth headset might just give the game away).
The phone uses a "speaker-independent voice recognition" technology which does not limit voice recognition to voice type and supports English, French, Spanish, German and Italian.
A Samsung official added that the company intends to expand the range of languages supported by the Bluetooth voice recognition technology, incorporating languages such as Chinese, Russian and Korean. But not Welsh.
As well as the Bluetooth gadgetry, the phone comes with a "refined antenna design" (whassat?!), a 1-megapixel camera, video wallpaper, speaker phone and 64 polyphonic ringtones.
The phone also boasts Star Trek-sounding "silver nano anti-bacterial coating". We've no idea what that is, but it sounds like the sort of thing that might have lined Spock's underpants.