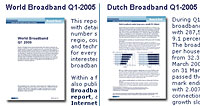 A new survey published today reveals that more Europeans than Americans possessed a broadband Internet connection in the first quarter of 2005, with hi-tech South Korea in danger of losing its global pole position.
The Asia Pacific region – home to most of the world's population – continues to be the world's biggest broadband market, notching up 61 million subscribers and a 39 percent share of the global broadband market.
The research by the Anglo-Dutch research group TelecomPaper placed Europe in second place with 47.95 million broadband subscribers, edging past America with 47.53 million.
"Europe has outrun the Americas for the first time in history and became the second largest broadband market in the world," TelecomPaper noted.
The addition of broadband to European homes was also greater than Asia and America, growing around twice as fast.

Leading the European charge were countries such as the Netherlands and Denmark whose broadband connectivity now only trails South Korea by a smidgen.
South Korea currently boasts 23.92 broadband connections per 100 inhabitants, which is calculated to give over 50 percent of the population fast internet access when connection-sharing is taken into account.
Growth in South Korea has almost come to standstill, with new connections only up 1.45 percent from the same period last year.
In the Netherlands and Denmark growth was explosive, with penetration reaching 21.1 percent, up from 13.9 and 15.8 percent respectively.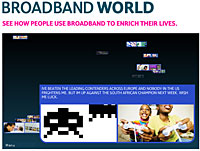 "Given the slow growth of South Korea, we expect that the top position, now held by South Korea, will change hands this year," observed TelecomPaper director Ed Achterberg.
With virtual telecoms operators gaining access to the incumbent operator's networks via European unbundling regulations, consumers have been able to take advantage from the fierce competition among telecoms' operators and cable TV companies.
European telecommunications commissioner Viviane Reding stated that she wanted more than half of all Europeans to have high-speed Internet access by 2010, bringing it up from an average 8.5 percent in 2004.
Five out the world's top 10 broadband nations are European, with Hong Kong at number four and Canada at five. Switzerland, Israel, Taiwan, Norway and Sweden are all up in the top ten, boasting at least 16.9 percent fast Internet connections per 100 citizens.